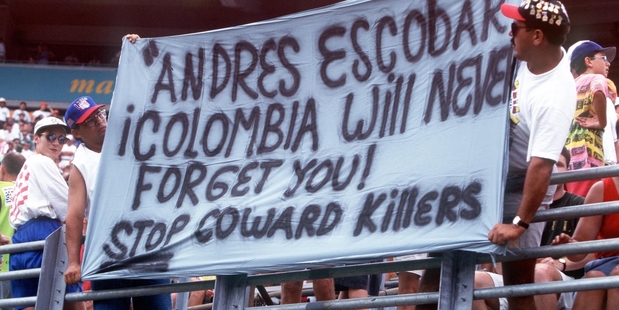 The murder 20 years ago of a Colombian soccer player who had accidentally scored for the other side, helping eliminate his team from the World Cup, stands in stark contrast to the national squad's celebrated success this time around.
It also highlights how Colombia has changed.
Colombia entered the 1994 World Cup among the favourites, led by star playmaker Carlos "El Pibe" Valderrama and forward Faustino Asprilla.
Then the unthinkable began to happen. The squad lost 3-1 to Romania and midfielder Gabriel Gomez got a faxed death threat. The coach contemplated resigning.
But the worst was still to come. Defender Andres Escobar, the even-tempered "Gentleman of the Field", accidentally put the ball in his own net in a loss to the United States, and Colombia was out.
Ten days later, the 27-year-old Escobar was shot dead in a Medellin parking lot. The country was stunned.
"Everyone wanted the crime solved, from the president to the most humble of Colombians," said Jesus Albeiro Yepes, the prosecutor who investigating the killing. "I think people would have lynched the three (suspects in the crime) if they had had the opportunity."
The crime reinforced Colombia's reputation as a nation held hostage by cocaine cartels, where professional soccer was rife with drug money and national stars played in private matches for kingpins including Pablo Escobar, who was slain by police in 1993.
The police investigation of Andres Escobar's murder reinforced the perception of impunity.
While triggerman Humberto Munoz was sentenced to 42 years in prison, he refused to implicate his bosses, who were with him at the time. He was out of prison after 11 years.
To this day, Yepes wonders why his superiors shelved the case against Munoz's bosses, brothers Santiago and Pedron Gallon, who authorities suspected of involvement in drug trafficking. Some have suggested a paramilitary leader who employed the brothers bribed authorities.
- AP