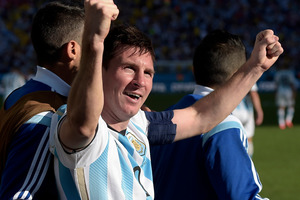 Argentina defender Pablo Zabaleta Argentina's dependence on Lionel Messi has been increasingly evident throughout this World Cup, with Pablo Zabaleta admitting that the rest of the team are simply playing for him.
"Every time we recover the ball we try to pass to him as he is the best player we have in the team and he will score goals," the 29-year-old defender said.
"We know he is our main player, our captain, the best player in the world. This team is playing for him as we know how important Messi is for this team. We are so lucky to have Messi in Argentina."
That dependence has appeared extreme at times -- not least in the way Argentina laboured to beat Switzerland 1-0 in extra-time to set up a quarter-final meeting with Belgium on Sunday.
After four matches in this tournament, Messi has scored four of Argentina's seven goals and produced four man-of-the-match performances in four victories, all earned by the most slender of margins.
"That is what we expect from him, always that the best player in the world will make the difference in every game," Zabaleta said.
Belgium midfielder, Eden Hazard, admits that stopping Messi will be crucial if his side are to progress to the semifinals.
"We know the best player in the world is in this team, but we are not afraid," said Hazard after the extra-time 2-1 win over the USA.
"We can win. Argentina have done well, but they have one big player who can make the difference every game. If we can stop him, we have a chance, but it will not be easy."
Belgium, billed as the dark horses of the tournament, have struggled to impress so far but Hazard added: "The whole team is tranquil. We do not feel pressure."