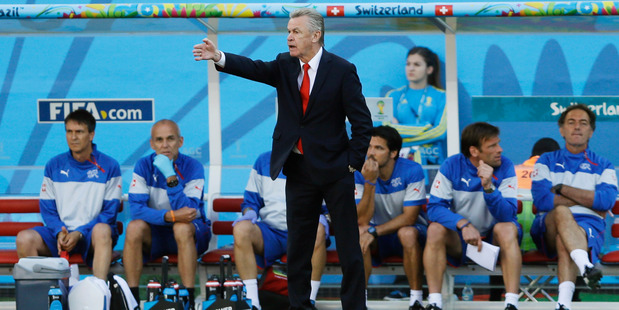 Ottmar Hitzfeld said an emotional goodbye to his Swiss team and football as he quit the sport after a dramatic World Cup loss to Argentina and following the death of his brother.
Despite the personal trauma of losing his brother Winfried, 81, to leukaemia, Hitzfeld very nearly masterminded a seismic upset of Argentina in his last hurrah as coach.
He said the extra-time defeat reminded him of the 1999 Champions League final, when his Bayern Munich team were minutes from victory before Manchester United scored twice.
And Hitzfeld said his "heart was full of emotions" after the Swiss came just two minutes from a penalty shootout before Angel Di Maria's extra-time winner in Sao Paulo.
"These are emotions you can only have with football, that's why I love football," he said. "Switzerland has won a lot of hearts around the world today, that is something that will make us proud."
The 65-year-old German, who won the Champions League with both Borussia Dortmund and Bayern Munich, had already announced he would retire after the World Cup.
"I will go on working for TV. I'll go to games but as a journalist basically, so I have a quiet life in front of me," he said.
"The job as a coach is difficult. I'm proud of my career. I was fortunate to coach marvellous clubs and also the Swiss national team.
"It has been a great time working for them so I say goodbye with a heart full of emotions."
After Argentina's winner, Hitzfeld went on the pitch to console his stricken players, just as he did in 1999 with his distraught Bayern Munich team following their 2-1 loss to Alex Ferguson's United.
"I went on to the pitch to console the players and tell them they've done a great job for themselves and their country."
Hitzfeld said Switzerland could leave with their "heads held high" after taking two-time winners Argentina to the limit on the sport's biggest stage.
"I guess every moment in football will stick in your memory and emotions are the same but today, this was a huge dimension," he said.
"It's a World Cup and we were nearly at a penalty shootout. That of course creates a lot of tension.
"Unfortunately we didn't make it but I think we can walk tall and leave with our heads held high," said Hitzfeld.