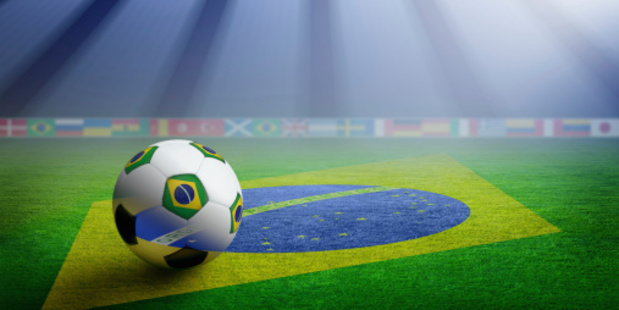 Coach Luiz Felipe Scolari admits a lack of experience is hurting Brazil's young squad at the World Cup.
The coach is also blaming some of the team's struggles, which include a disappointing performance that nearly led to their elimination by Chile in the second round, on the pressure of having to succeed in front of the home fans.
Brazil have only six players with previous World Cup experience. Some of their top stars, including Neymar, are playing on football's biggest stage for the first time.
"Of course it's a concern, we have a young team," Scolari said after Brazil's win over Chile in a penalty shootout.
"Even the most experienced players will feel the pressure of a World Cup. Everybody feels it. If you say that you don't feel it, you are lying. It's a different situation emotionally, it's never simple. We have a lot of young players, and little by little they will gain more of this experience."
The veteran coach cited young midfielder Willian, who is one of the team's best penalty takers in training but sent his shot wide in Sunday's shootout against Chile.
"We will be gaining more experience in each match we play," Scolari said. "Hopefully, in the next matches we will be making fewer mistakes because of this lack of experience. We can't lose any more."
Brazil will play South American rival Colombia in the quarter-finals on Saturday in the northeastern city of Fortaleza.
Scolari said Brazil's disappointing second-half performance against Chile could be blamed on the pressure felt by the players.
Several Brazilian players, including Neymar and captain Thiago Silva, were crying after the match was over. Goalkeeper Julio Cesar, who made two penalty saves, had watery eyes even before the shootout started.
Only five players from this year's team were in the 2010 World Cup - Cesar, Silva, Dani Alves, Maicon and Ramires. Fred didn't go to South Africa but was in the squad for the 2006 tournament in Germany.
Scolari brought in psychologists to work with the players when the team began their World Cup preparations more than a month ago.
"We've been getting prepared emotionally since we got here," said Brazil defensive midfielder Fernandinho. "The talks we had with the psychologists were very good, but now it's up to the players."
When Scolari named his squad, he said that despite their young age, most had been playing in some of the world's top leagues for a long time.
He has always said that anything but the title would be considered a failure for Brazil, and has maintained since the start that his team would win the World Cup.
"People are demanding it from us, because we said we would win," he said. "Now we have to give it back to them. If you make a promise, you must deliver."