Quarter-final place against Germany reward for dogged performance that brings smiles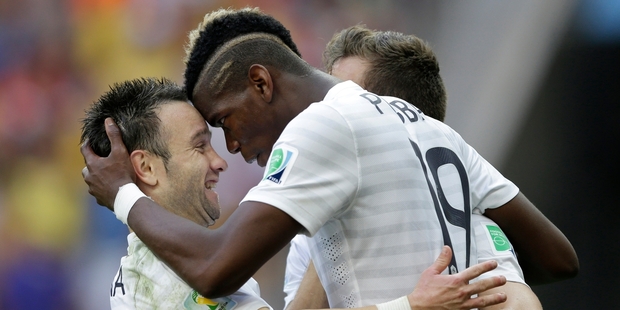 After being touted as one of the World Cup's entertainers, France turned on a gritty performance to reach the quarter-finals with a 2-0 victory over Nigeria.
France's forward line made headlines with eight goals in their opening two group games, but there was little flair on display in a hard-fought contest against the African champions.
France needed a late header from midfielder Paul Pogba and an injury-time own goal from defender Joseph Yobo to overcome a robust Nigeria.
The reward is a quarter-final against Germany on Saturday at Rio de Janeiro's Maracana stadium, following the Germans' 2-1 victory over Algeria.
Pogba's goal in the 79th minute followed Nigeria's best spell of the match and came soon after France goalkeeper Hugo Lloris had made a save to deny Peter Odemwingie.
"We're not the prettiest or the best, but we can do good things," France coach Didier Deschamps said after the game.
"The deliverance came late. There was a lot of tension because we were up against a very athletic side and there were a lot of challenges."
Nigeria had a goal ruled out for offside in the 19th minute after Emmanuel Emenike poked home Ahmed Musa's cross from the left, and wasted a lot of second-half possession.
Four years ago, France crashed out of the group stage, shamed a nation by going on strike and were jeered by their own fans and lambasted by politicians.
It's a very different situation now.
"I'm proud of my players because we're coming back from very far. I think we've given a lot of pleasure back to our fans," Deschamps said.
"I think there were 5000 here and millions back home who will feel proud."
Pogba's goal came after Nigeria goalkeeper Vincent Enyeama made a superb save to tip over Karim Benzema's header. But he flapped at the ball from the ensuing corner and Pogba pounced for his first World Cup goal.
That atoned for placing a volley too close to Enyeama in a scrappy first half.
"We have four days left to prepare for another battle," Deschamps said.
Yobo, who announced his international retirement after the game, turned the ball into his own net in stoppage time under pressure from France substitute Antoine Griezmann.
At the final whistle, France's relieved players danced in front of their fans as dreams of a run to the final - just like in 2006 - moved a step closer.
"We had the whole country behind us," Pogba said. "It's one of the proudest moments of my life."
France started slowly and finished strongly in the second-round match.
"I've yet to see a team play well over the whole 90 minutes," Deschamps said.
"Nigeria dropped off a bit and that allowed us to get on top."
After Griezmann came on, Benzema finally came alive in the 70th minute, opening up the defence after a clever one-two with the France substitute. After Enyeama blocked Benzema's initial shot, his follow-up effort was hacked clear by Victor Moses. Video technology confirmed that the ball did not cross the line.
France failed to show the attacking flair of previous games, Giroud skewing a shot wide early on.
Watch: World Cup highlights: France beat Nigeria 2-0

He also appeared to elbow John Obi Mikel in an off-the ball incident.
"The referee saw it and didn't even give him a warning," Mikel said. "Not a yellow card, nothing. The intention was there."
Keshi was highly critical of American referee Mark Geiger's handling of the game.
"The ref is a human being, but a lot of mistakes were questionable," he said. "Giroud elbow, Pogba foot up ... he decides what happens on the field. I'm not happy with the ref."
Two chances were missed late in the half. Fullback Mathieu Debuchy smacked a shot wide and into the back of a steward, and Emenike's sharp drive from the edge of the area was palmed away by Lloris.
As Nigeria started to dominate possession, Deschamps took Giroud off in the 62nd minute and brought on Griezmann, freeing Benzema to play through the middle.
Nigeria continued to push forward and centre half Laurent Kocielny cut out Musa's dangerous cross from the right.
But toward the end, it was all France as Griezmann boosted the attack. He almost made it 2-0 in the 85th but Enyeama tipped over brilliantly. Instead, it fell to Yobo to inadvertently add France's second goal.