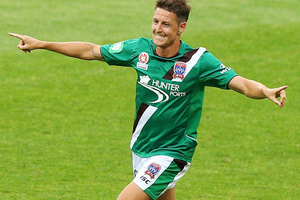 Wellington Phoenix signing Nathan Burns has one key thing in common with his new team: They're both rebuilding.
The Phoenix are working towards their second A-League campaign under coach Ernie Merrick after coming ninth last year, while Burns is looking for a fresh start after an injury-filled spell at Korean side Incheon United FC.
Merrick has long coveted the attacking-minded Burns and he was finally able to get his man a few weeks ago.
"Ernie was very convincing and I had a good chat with him and basically I'm pretty excited to play under him," Burns said on his arrival to the capital today.
"[It's] the style of football and I've always admired the way he coaches. He's very relaxed and very calm and for me that's a good thing."
The 26-year-old will provide attacking thrust for a Phoenix side who have been light on creative talent in the past.
"It's been very frustrating with club situations but I've signed for two years here now so hopefully that's start of a two-year building period for me," Burns said.
The seven-cap Socceroo is a player who has been labelled an underachiever by some but still has age on his side given he is only in his mid-20s.
Burns is no stranger to the A-League having played for Adelaide United between 2006-2008, plus he made 12 appearances for the Newcastle Jets last season while on loan from Incheon.
Recruiting a player like Burns is a minor victory for the Phoenix who have struggled to draw top Australian talent across the Tasman in the past.
Burns had no reservations about playing in Wellington though and said the Phoenix had the potential to a be a playoff team.
"There's no reason why Aussies don't want to come over here; it's a great city," he said.
"We are going to make it a strong side, hopefully."
Burns has the ability to operate out wide or behind a striker, which will give Merrick more options in attack for the upcoming season with the likes of Jeremy Brockie, Tyler Boyd, Kenny Cunningham and Roy Krishna also on the books.
Burns has spent the past few weeks on holiday but said he was looking forward to starting pre-season training and should be available for selection for next month's friendly matches with English Premier League sides West Ham United and Newcastle.
The Phoenix open the 2014-2015 season against the Perth Glory in Wellington on October 12.
- APNZ