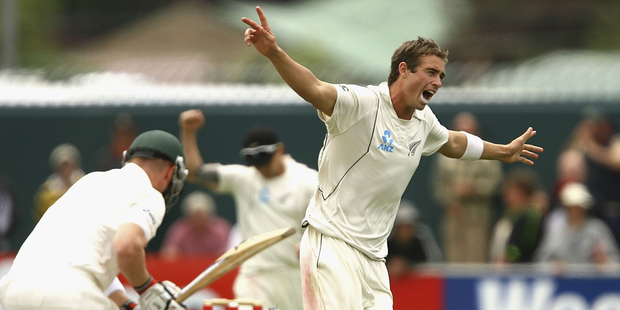 New Zealand are on track to play an historic first day-night cricket test late next year.
The likely venue is Adelaide or Hobart in November, when New Zealand tour Australia.
Talks have been taking place between the countries for the last year.
"We're certainly very excited about the concept and serious about properly pushing ahead," Cricket Australia chief executive James Sutherland said today.
Sutherland said a key plank was making test cricket more accessible to fans. Pioneering day-night tests "hopefully means cricket will only be stronger".
He ruled out playing the traditional Boxing Day or New Year's Day tests - usually locked in for Melbourne and Sydney respectively - as day-nighters. The idea is to schedule it during a non-holiday part of the year.
Sutherland yesterday effectively also counted Perth out of contention due to its time difference, three hours behind the Australian eastern seaboard, and Brisbane, where the Gabba's lights are not of sufficient quality.
"The real opportunities are when people have work commitments and children have school commitments," Sutherland said.
Sutherland suggested each day's play would end about 11.30-midnight NZ time.
Work is continuing on developing the pink ball. Kookaburra pink balls were used in last season's trial during the Sheffield Shield, when the venues were Adelaide, Brisbane and Melbourne. The venues next summer will be Perth, Hobart and Adelaide. That is the scheduled second round of matches, to be played from November 8-11, around the same time as the proposed day-night test.
Duke balls have been used in the West Indies and the United Arab Emirates.
New Zealand Cricket chief executive David White confirmed today a pink ball will be used in domestic cricket next summer, although suggested it would not be in the first-class Plunket Shield.
"What's obviously critical is how the ball behaves, whether it is reasonably consistent with the red ball," White said.
Sutherland said today feedback on the ball, which shapes as a key obstacle to the success of the project, was positive.
"I guess what we've learnt from that is there are no really obvious reasons why we shouldn't be continuing to progress with our intent around day-night tests," Sutherland said.
"(It's) Just like the white ball doesn't behave exactly the same as the red ball," Sutherland said.
"What we were pleased about in looking at shield results from that round, statistically in terms of runs and wickets they were very much on a par with the average for the whole shield season."
There was no "rogue behaviour" from the pink balls and the suspicion that as soon as twilight settled in the ball would behaviour peculiarly proved wrong, Sutherland said.
White said New Zealand's players would need to be comfortable with the proposal.
"We'd like one or two warmup games in similar conditions leading up to that test," he said.
"There's a few hoops to go through but certainly we're heading in the right direction."
White said if the debut day-nighter proved a success if would enhance the prospect of New Zealand hosting one in the future.
Both ceo's pointed out that cricket has been loaded with innovations since the first test match in 1877.
Sutherland said a key plank was making test cricket more accessible to fans. Pioneering day-night tests "hopefully means cricket will only be stronger".
"What we're very conscious of is we are operating in the entertainment sector," he said.
"We are looking to create as many opportunities as we can. In various parts of the world test cricket needs a bit of a legup.
"If there's things we can do to make it more popular that is our ultimate aim, because the last thing we want to see is test cricket withering on the vine."