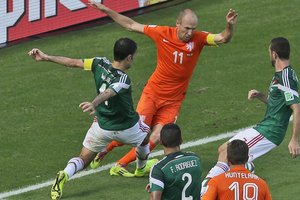 Dutch striker Arjen Robben apologised for diving in a bid to get a penalty against Mexico but insisted he did not fake the foul that led to his side's winning penalty kick.
Mexico's coach Miguel Herrera launched a furious attack on match referee Pedro Proenca for giving the injury time penalty that Jan-Klaas Huntelaar hit home to seal a 2-1 comeback victory.
Robben was at the centre of both incidents in the World Cup last-16 clash in Fortaleza.
Netherlands steal victory with late goals
"I really have to say and at the same time apologise in the first half I took a dive and I really shouldn't do that," Robben told Dutch broadcaster NOS as he celebrated the victory.
"That was a stupid, stupid thing to do but sometimes you're expecting to be struck and then they pull their leg away at the last minute."
But the Dutch striker insisted Proenca was right to point to the penalty spot after he was challenged by Mexico's veteran captain Rafael Marquez. "I was fouled," he said.
Mexico had been leading until the 88th minute when Wesley Sneijder scored and then Huntelaar put away the penalty.
And Herrera said referee Proenca should take no more part in the World Cup.
"The determining factor was the man with the whistle. He put us out of the World Cup," he said.
"At the very least they can look at this and this gentleman ought to be going home like us."
- AFP