There's no good reason why Carter and world-class teammates were on the bench.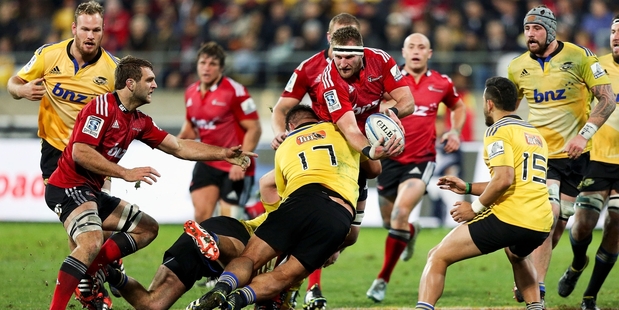 I want to talk about the Crusaders' decision to not start three world-class players in Kieran Read, Dan Carter and Owen Franks in their loss against the Hurricanes, an extremely pivotal game for them.
A victory over the Hurricanes, with two home fixtures left, would have put them in the box seat for a home semifinal. Instead, they lost 16-9.
I just wonder whether they got the selections wrong. At the time I thought the selections were really interesting and I haven't heard any constructive answers about why they did it. They have tiptoed around it.
In my opinion the reason you need that calibre of player starting is they're not as comfortable coming off the bench.
During my career I was lucky enough to start the vast majority of the games I played. I found it extremely difficult to come off the bench and get into the game because I wasn't used to it.
I know it's a difficult thing to get through to people but some players are not as accustomed to starting, they are more familiar with coming off the bench and they develop that skillset.
Read, Carter and Franks prepare differently. You are not focused or amped up because you're not on the field. I know an old cliche is you should prepare as though you are starting, but the reality is you probably won't.
Not selecting Colin Slade at No10 would have been hard on him because he's played well for the Crusaders, but I would have ensured Carter was on the field somewhere - even at No12, with Ryan Crotty moving out one.
In Carter and Read we are talking about two IRB world players of the year.
When they were introduced at Westpac Stadium on Saturday night not one of them made an impact.
I wonder whether there were other motives. I know the All Blacks coaches had a debrief with all of the New Zealand Super Rugby coaches and I would sympathise if the Crusaders coaches were told they couldn't select those guys to start. But that would be a travesty if the All Blacks were dictating the fate of Super Rugby franchises. And, to be honest, if I was the coach I'd tell them to take a flying jump.
The reason I make this point is because I really believe the Crusaders have a fortress at home but they struggle in playoffs away from home. A victory in Wellington would have paved the way for a much easier run in.
Now for the Blues. It's impossible to coach attitude. You can coach preparation, though, and for me there was a significant change in the way the Blues prepared for that game.
They had a desire and edge from the first minute against the Force in Perth which has been missing all season. They looked like a title-contending team against an outfit very difficult to play in Western Australia.
The physicality, pace, power and individual brilliance was all there. Ihaia West is an outstanding young prospect. Bryn Hall continues to be a revelation in the No9 jersey and forwards such as Keven Mealamu, Tony Woodcock, Steven Luatua, Jerome Kaino and Co fronted up. Lolagi Visinia was outstanding. Ma'a Nonu played with attitude - he's the best in the world when he plays like that.
Their performance really sets up a challenge for them. Can they reproduce that attitude and energy at AMI Stadium against the Crusaders? If they can, look out Crusaders because they appear capable of going down there and winning.
If you are a Blues supporter you will be wondering why that performance came so late in the season. Only players and management will know why that energy has been missing. Why weren't they doing that from game one?