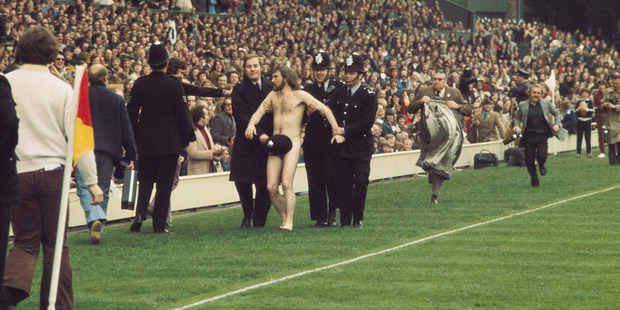 Brits brought the fad of streaking into the world of sports with Michael O'Brien stripping down at a 1974 rugby game between England and France.
Since then there have been countless cases of people ditching their clothes and interrupting events - most these haven't been memorable.
But a few have. Here we look at the world's most infamous streakers:
- Ian Bradshaw took a photo of streaker, Michael O'Brien at a rugby international game between England and France. It later became LIFE magazine's "Picture of the Year" and also won a World Press Photo Award. People Magazine named it, "Picture of The Decade".
- A year later, another iconic streaker photo emerged - Michael Angelow sprinted onto the pitch during the August 1975 cricket match and hurdled the stumps. Angelow was arrested and charged £20-the same amount he won in the drunken bet that led to his streak.
- In 1979 batsman Greg Chappell strategically positioned the bat in front of the unknown streaker during Australia v West Indies one-day international, in Melbourne.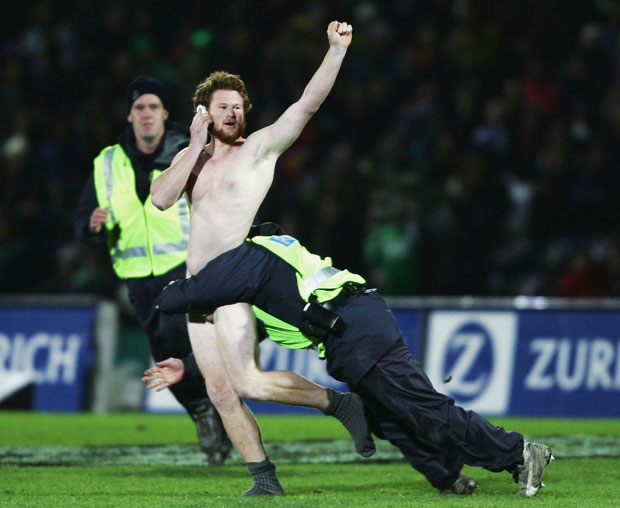 A streaker was tackled by a police officer after he ran on to the pitch using a cellphone. Photo / Mark Mitchell
- During a 2005 rugby match between the British and Irish Lions and Manawatu, a streaker continued talking on his mobile phone as police tackled him to the ground.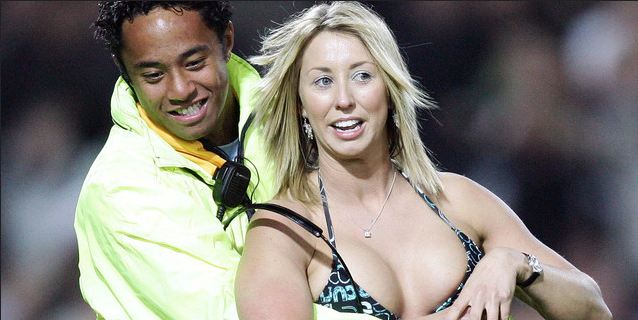 Lisa Lewis on field at the All Blacks vs Ireland test in 2006. Photo / File
- Hamilton's Lisa Lewis made her name when she ran on to the pitch during the All Black v Ireland rugby Test in Hamilton in 2006 wearing only a bikini.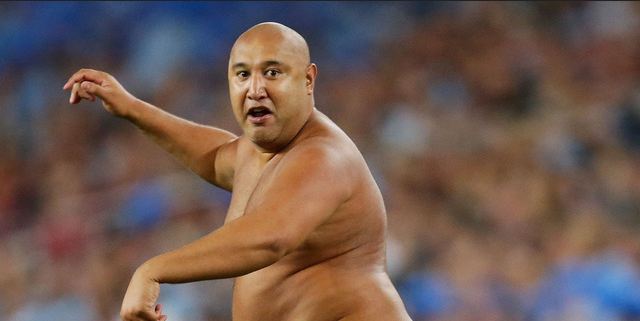 Wati Holmwood. Photo / Getty Images
- Nelson man Wati Holmwood is no stranger to streaking, but shot to fame during the final minutes of the rugby league Origin decider in July 2013. His 90m dash saw him get charged with wilful and obscene exposure.
Read more:
• State of Origin streaker jailed for three months

Adam Holtslag is taken off the field. Hannah Peters/Getty Images
- Most recently Adam Holtslag, 28, admitted he "probably started [drinking] a bit too early", but was egged on by his mates to run naked across the pitch at Dunedin's Forsyth Barr Stadium. Holtslag was tackled by Canterbury rugby player and security guard, Brad Hemopo.
Watch:
• Rugby: Streaker slammed by security
- nzherald.co.nz