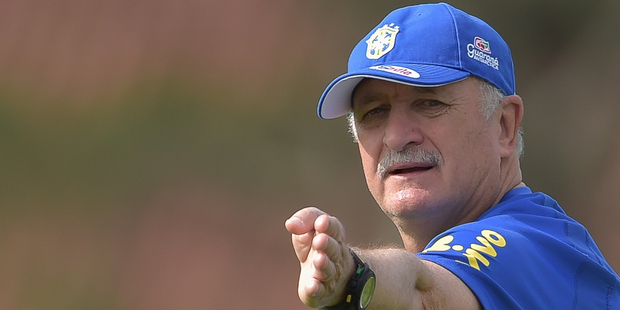 The second round of the World Cup gets underway on Sunday with host nation Brazil facing Chile and Colombia taking on Uruguay in an all-South American race to reach the quarterfinals.
Brazil will be the first to play, in Belo Horizonte, and faces a Chile squad that has lived up to its pre-tournament expectations as a very good team that could cause few surprises.
The statistics point to one outcome at the Estadio Mineirao: Brazil has never lost to Chile on home soil and hasn't been beaten by its South American rival in 14 years. On top of that, Neymar is already in scintillating form for Brazil at the tournament.
He scored twice in a labored 3-1 victory over Croatia in the tournament opener and struck two more to give Brazil a decisive 2-1 lead in what became a comfortable 4-1 win over Cameroon in its last group game.
However, Brazil's players - and coach - are understandably wary of a dangerous Chile side which has far less to lose than the hosts.
"It's normal to feel uncomfortable and anxious ahead of this first elimination game," Luiz Felipe Scolari said.
"We are a bit more scared and nervous... not only because this one is in Brazil. We know we can't make mistakes, we can't lose."
Chile's 2-0 victory over 2010 World Cup champion Spain at the group stage underlined the potential of Jorge Sampaoli's team, though a loss to the Netherlands by the same score maybe indicated its limits.
Playmaker Arturo Vidal and livewire forward Eduardo Vargas will be the ones to watch in a game which the Chileans are clearly relishing. Vidal is coming back from injury, but there are bigger concerns over a muscle injury sustained by central defender Gary Medel.
"We have a historic opportunity to eliminate the hosts," Chile goalkeeper Claudio Bravo said. "It's our longtime rival, one with a lot of titles. It's up to us to do it."
- AP