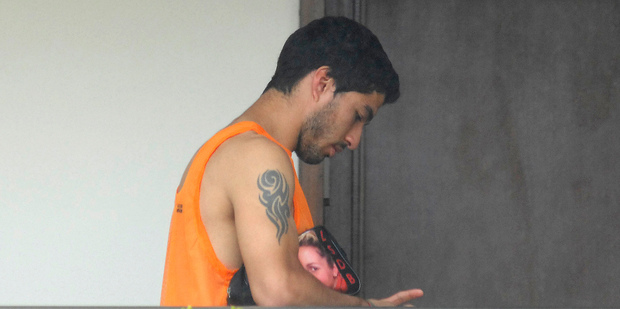 Luis Suarez's family and friends describe the Uruguay star as a "great guy" troubled by explosive rage as he begins a four-month ban from football for biting an opponent.
Suarez, the fourth of seven brothers, was always "calenton" - a hothead - in Uruguay, his paternal grandmother, Lila Piriz, said from his home town, the northwestern city of Salto.
The 27-year-old striker himself says his combustible personality made him "the player I am today", one of the best forwards in the world, by many estimations.
But it has also got the Liverpool star into plenty of trouble.
He served an eight-match ban for racially abusing Manchester United's Patrice Evra in 2011, was suspended twice for biting in 2010 and 2013, and was given a nine-match suspension yesterday for biting Italy's Giorgio Chiellini.
"I don't know what's going on with my 'negrito'," Piriz said, using an affectionate nickname that is, ironically, the same word Suarez used for Evra in the incident that led to his racism ban.
"I don't know why he has these explosive outbursts. He can't control them, even though he has everything he needs to be happy. Maybe it's his parents' divorce, the hardships they went through."
Piriz, who still lives in a modest home in Salto despite her grandson's celebrity, said Suarez inherited his personality from his father, a soldier who was a local footballer.
"We never thought Luisito was going to be the most famous of the bunch with that personality of his," she said.
Roberto Mezza, a family friend who played with Suarez's father at Salto club Deportivo Artigas, agreed the apple didn't fall far from the tree.
"Knowing his father ... ," he said with a laugh.
Richard Suarez is not related to Luis' family but watched him play youth football in Salto. He said the striker "was never aggressive".
"A lot of people have written him off as a bad person but it's not like that. He's a great guy," he said.
Work was hard to come by in Salto, and when Suarez's mother got a job as a cleaner in Montevideo, the family moved to the Uruguayan capital.
Suarez, then 7 years old, had trouble adapting, according to journalist Ana Laura Lissardy's book Vamos que vamos, a collection of interviews with members of the Uruguay national team.
Two years later his parents separated, "shaking the ground beneath his feet", Lissardy wrote.
That was followed by a rebellious adolescence when Suarez showed little interest in school or football.
Sports psychologist Pablo Martinez, of Uruguay's University of the Republic, said biting others generally "appears in people who have had a very aggressive, very poor childhood".
Like many Latin American footballers, Suarez went from a life of poverty to stardom and riches almost overnight.
"He has been treated by a psychologist for anger management and I thought he had it under control," said Martinez.
Suarez's life was transformed at age 14 when he met Sofia Balbi, the girl who would become his wife and one of his main inspirations to pursue professional football.
She became a guiding force that helped control "both my life and my head", he told ESPN Brazil last November.
But the sweethearts were parted when Balbi moved to Barcelona with her parents.
Suarez decided the only way to get her back in his life was to become a professional footballer.
No sooner had he signed his first European contract, with Dutch club Groningen in 2006, than he asked Balbi's parents to let their then-16-year-old daughter move with him to the Netherlands.
Suarez told AFP in March last year that his personality was at the heart of his success.
"You can lose some things, but can never lose the slyness, the passion that you have had since you were a kid playing in the street," he said.
"If I didn't have the character that I have today on the pitch, I don't think I would have become the player that I am."
- AFP