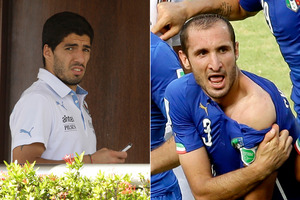 Luis Suarez is not alone in being punished for biting. Here are five other painful cases:
RUGBY LEAGUE
Former Sydney Roosters player Anthony Watts was accused of biting an opponent's penis in a game for the Tugun Seahawks against Bilambil Jets in 2013. A Jets player pulled down his shorts to show the referee he had been bitten. Watts denied the charge vehemently. "I was wearing a mouthguard and there's no way I bit him on the dick," he said. His protests of innocence fell on deaf ears and he received an eight-match ban.
BOXING
Mike Tyson was enraged at what he saw as deliberate headbutting by the taller Evander Holyfield during their 1997 world heavyweight title fight. Tyson worked his gumshield free during the third round and bit off part of the top of Holyfield's ear and spat it out onto the canvas. Referee Mills Lane did not stop the fight immediately but when it became clear that Tyson had repeated the offence he had no alternative but to call it off and award the fight to Holyfield. Tyson charged round the ring trying to get at Holyfield in his corner but the champion was led to safety.
The Nevada boxing authorities fined Tyson $3 million and revoked his boxing licence.
RUGBY UNION
South Africa prop Johan Le Roux achieved his moment of infamy in a test against New Zealand in 1994 when he nibbled at legendary hooker Sean Fitzpatrick's ear. With blood pouring from his ear, Fitzpatrick complained to the match officials who said they had seen nothing. TV evidence was unequivocal though and the 'Beast' was sent home the night after the game. Fitzpatrick later revealed Le Roux had already bitten him on his arm before going for the ear. Le Roux later received an 18 month ban. He thought he had been hard done by declaring: "For an 18 month suspension I feel I probably should have torn it off."
AUSTRALIAN RULES
Peter Filandia was accused of biting the scrotum of rival player Chad Davis while competing for Port Melbourne against Springvale in 2002. Filandia excused himself by saying he had not realised what part of Davis's body he was tucking into. "It was a split-second decision," he said. Authorities ordered a 10-match ban.
RUGBY UNION
London Scottish flanker Simon Fenn emerged from a ruck in a 1998 club game with Bath missing both the ball and part of his ear. His injury required 25 stitches. He had little idea who the perpetrator was, but suspicion fell on prop Kevin Yates and despite his denials Yates was suspended for six months.
- AFP