Lionel Messi is finally enjoying himself at a World Cup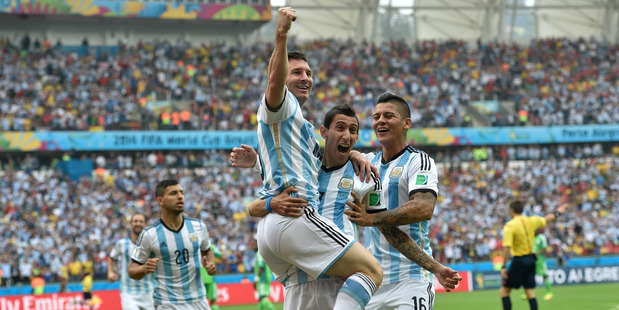 Lionel Messi did something that we had not seen from him before at this World Cup. Not the two goals, or the casual match-winning brilliance.
That was old news. It came at the end of the first half, just after he had scored from a free kick, as he was being mobbed by happy teammates, as the Argentine fans were chanting his name over and over.
As he emerged from the huddle came that rarest of sights: a huge, beaming smile. Finally, at his third World Cup, in his 10th World Cup match, Messi was enjoying himself.
It is a strange thing, pressure: it comes from many sources, but ultimately the main one is yourself.
Nobody would have been more aware than Messi of his failure to reproduce his own stratospheric standards at a World Cup. Now, as his fourth goal of the tournament sailed in as serenely as Argentina sailed into the last 16, it was as if the weight of expectation had finally been lifted.
"Messi is one hell of a player," Stephen Keshi, the Nigeria coach, said after his team lost 3-2. "He is from Jupiter. He is different."
Not that Messi had it all his own way. Nigeria scrapped like tigers, Ahmed Musa turned this into a two-man show with his own double-strike. Left back Marcos Rojo scored the winning goal five minutes into the second half, but doubts persist over Argentina's defence, which will surely face sterner tests in the coming days.
"We are an offensive team, and as an offensive team sometimes we have problems," Alex Sabella, Argentina's coach, said. "Our defence is doing a good job and we will try to make it more robust. If you do a bad job in the round of 16, you go home."
There was also an injury to Sergio Aguero, who was seen leaving the stadium with his left thigh heavily strapped. "Kun had a muscular problem that will be assessed tomorrow," Sabella said.
As for the neutral, it was another carnival of attacking football that started with a bang and only occasionally stopped to pause for breath. It was the first time both sides had scored in the first five minutes of a World Cup match: first Messi slammed home the rebound after Angel di Maria's shot had been half-saved by Vincent Enyeama. A minute later, though, Musa cut in from the left and curled a beautiful shot into the far corner.
Nobody could accuse Nigeria of coming unprepared. They countered Argentina's attacking trident with four centre backs, packed so narrowly they could have been holding hands. On the touchline, Keshi would hunch over to check their alignment, like a joiner inspecting his handiwork.
With the scores effectively reset, the game settled into the pattern it had always augured: Argentina pressing, prodding, probing, Nigeria staunch in defence and sharp on the break.
The chances were mainly Argentina's. Gonzalo Higuain hit the side of the net. Enyeama, displaying all the poise and assurance of a pallbearer who had turned up at the wrong funeral, fumbled another shot from Di Maria. And so it was that after letting everyone else have a go, Messi decided to make his re-entrance. A glorious free-kick from 25m, saved by Enyeama, turned out to be merely an amuse-bouche. A couple of minutes later, Messi took another free-kick, from a little closer. The ball arced like the sun, untroubled and unstoppable. Enyeama did not even bother to dive.
But if Argentina ended the first half by unleashing their deadliest weapon, they began the second by exposing their most serious flaw. Their defence stood flat-footed as Emmanuel Emenike flicked the ball into the path of Musa, who ran through on goal before finishing low past Romero.
Just three minutes later, Messi's corner was poked home by Rojo's knee. Argentina led again.
Messi came off after an hour, to a reception that would have embarrassed the Pope. Musa missed two chances to complete a brilliant hat-trick. But Iran's defeat meant Nigeria qualified anyhow, a likely last-16 game against France awaiting them. Perhaps that contributed to the carnival atmosphere: a celebration of this captivating tournament, a stage fit for the greatest of heroes.
And afterwards, the greatest hero of all held court. Clutching his third straight man-of-the-match award, Messi was asked why he wanted to win the World Cup.
"Because I believe there is nothing more beautiful and seeing the joy of the entire country."
Perhaps we should not have been surprised by this rare human moment, or by the fact he smiled after scoring a goal. But if we were, then it was only a compliment to his mastery. That is true genius: it renders the miraculous mundane.