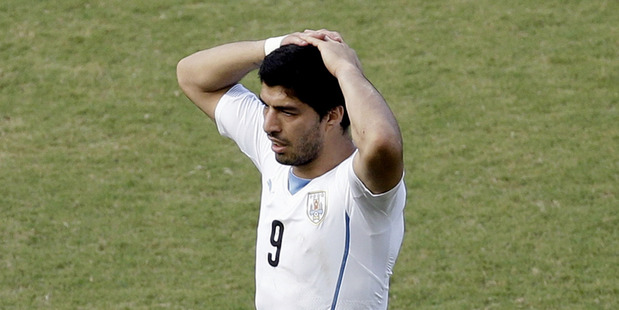 An unfortunate Argentine man with the same last name as accused World Cup biter Luis Suarez has pleaded for an end to a deluge of online abuse directed at him.
"Please stop," Argentine Diego Suarez urged after being mistaken for the Uruguay and Liverpool striker on his Twitter handle @Suarez.
"I am not Uruguayan, I am not Luis Suarez," he said. "There are many Suarez's in the world, I am not Luis Suarez. Please."
More Suarez news to sink your teeth into:
Uruguay captain: Bite victim 'cry-baby'
Suarez brings bitey bonus for 167 gamblers
Fifa urges to get tough over Suarez bite
FIFA charges Suarez over biting
He added in block capitals - and in English: "Please stop. I am not Uruguayan."
Later he said: "Suarez went and bit some guy again and I've been deluged with (online) mentions through til dawn.
"I used to like Twitter as it was a very relaxed medium for me where people didn't go round insulting me."
Some of the printable remarks made against Diego Suarez included "dirty horrid cheat" and "should be banned for life."
The Uruguay striker is facing his third biting storm in less than four years after being accused of sinking his teeth into Italian defender Giorgio Chiellini's shoulder.
- AFP