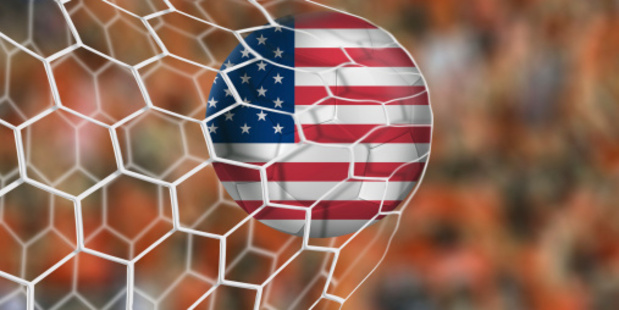 The United States' 2-2 World Cup draw with Portugal is almost certainly the most-watched football game ever in the US, an emphatic confirmation of the sport's rising popularity in a country slower to embrace it than the rest of the world.
The Nielsen company said that Monday's gripping game was seen by an average of 24.7 million viewers on ESPN and Univision. That matches it with the 24.7 million US viewers who watched the 2010 World Cup final between Spain and the Netherlands.
ESPN said an additional 490,000 people streamed coverage of the game on their mobile devices through the company's app. Streaming numbers for 2010 weren't immediately available, but it's unlikely they were that high because streaming apps were not as sophisticated then.
Many factors were in place to make it so popular:Interest in the US team was high because of the first-game victory against Ghana and World Cup viewing in general has been high.
The Sunday evening time slot also meant many Americans were available to watch.
"It indicates that a large group in our audience is really following the story of the World Cup, which is really terrific," said Scott Guglielmino, ESPN senior vice-president of programming.
American players sense the support back home, as well as in stadiums in Brazil, and appreciate it. Viewing parties have pulled thousands of people into bars, public parks, movie theatres and other locations since the tournament began.
"When we get back to the hotel and we hear about Grant Park in Chicago having 10,000 fans out to watch the game and friends and family are sending pictures and videos of what's going on, it can't help but push you on because we want to make every person watching back home proud of us and proud to watch our team," said midfielder Michael Bradley.
The game has continued to grow steadily ever since the US hosted the World Cup in 1994. "People know our players, people know what's going on, people get excited to watch the games and to support their team, their country," Bradley said.
"I think as players we can't ask for anything more."
Alejandro Bedoya, a midfielder, said he checks social media to see the attention the team is getting.
"It's awesome to see this and we are part of this movement I guess that is growing soccer in the States."
Through 32 matches, World Cup games averaged 4.3 million viewers on ESPN, up 50 per cent from the nearly 2.9 million for matches in the 2010 event.
Sunday's match was the most-watched event ever on ESPN that did not involve American football (gridiron).
Interest is also growing fast on the Spanish-language Univision, where soccer has long been the top sport. The 6.5 million people who watched the US-Portugal match represented the biggest audience ever for a US match on the network. AP