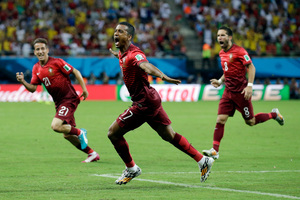 The Netherlands, Belgium, France, Argentina, Chile, Costa Rica and Colombia are already assured of advancing into the World Cup knockout stages before the last round of group games.
Australia, Bosnia-Herzegovina, England, Cameroon and Spain are out, leaving the remaining 20 teams to fight for the 10 other places in the round of 16 between Tuesday and Friday.
In case of teams tied on points, goal difference is the first tie-breaker, followed by goals scored and the result from their direct meeting. Head-to-head results and goals are used if three teams are tied.
Following is a group-by-group look at the permutations.
GROUP A: Brazil (four points, 3-1 goals ratio) and Mexico (four, 1-0) are in the drivers' seat to advance ahead of their final games against Cameroon (zero, 0-5) and Croatia (three, 5-3) respectively. Brazil and Mexico only require draws to go through while Croatia need to beat Mexico to reach the last 16.
Brazil could also advance with a narrow defeat in the event of a Croatian win, depending on goal difference.
GROUP B: The Netherlands (six, 8-3) and Chile (six, 5-1) meet to determine the group winner, with the Dutch only requiring a draw to stay top. Chile will finish first with victory. The game between holders Spain (zero, 1-7) and Australia (zero, 3-6) is for pride only.
GROUP C: Colombia (six, 5-1) are through ahead of their group finale against Japan (one, 1-2), with Ivory Coast (three, 3-3) taking second place into their game with Greece (one, 0-3). The Ivorians are through with a victory, and with a draw, if Japan don't make up an inferior goal difference in beating Colombia. Even Greece have a chance to advance but need to make up many goals.
GROUP D: Costa Rica (six, 4-1) have qualified ahead of their game with England (zero, 2-4) and will win the group with a draw. Italy (three, 2-2) and Uruguay (three 3-4) decide the other qualifier in their showdown in which Italy only require a draw.
GROUP E: France (six, 8-2) lead ahead of Ecuador (three, 3-3), Switzerland (three, 4-6) and Honduras (zero, 1-5) but need a draw against Ecuador to make absolutely sure of advancing. The Swiss can stay alive with a better result than Ecuador when they play Honduras.
But the central Americans are also not out yet, although they need to beat the Swiss, and ecuador to lose, and make up goals.
GROUP F: Argentina (six, 3-1) meet second-placed Nigeria (four, 1-0) and will win the group with a draw. Iran (one, 0-1) will need to win against Bosnia (zero, 1-3), and make up goals in case Nigeria lose, to snatch second place.
GROUP G: Top ranked Germany (four, 6-2) and United States (four, 4-3) will both advance if they draw in their game. If there is a winner, the winner from Ghana (one, 3-4) and Portugal (2-6) is also in with a chance, depending on goal-difference. If that game ends in a draw, Germany and the US are through regardless of their result.
GROUP H: Belgium (six, 3-1) are qualified for the last 16 ahead of their game with South Korea (one, 3-5). Algeria (three, 5-4) will be assured of second place if they beat Russia (one, 1-2), but a draw could also be good enough for them if South Korea don't make up goals in beating Belgium. Russia need to win to make the last 16, and hope that South Korea don't win with a bigger margin.
- AAP