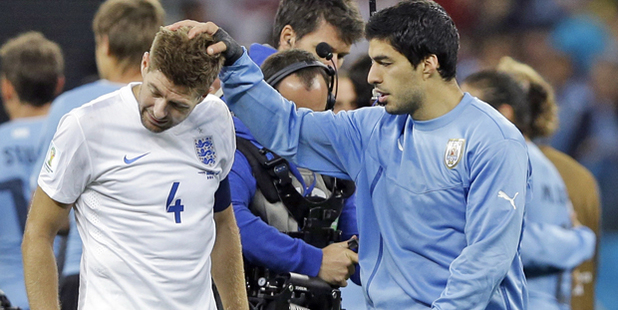 England captain Steven Gerrard regrets his error that led to Uruguay's winning goal, saying inexperience had cost his team, who now need a miracle to stay in the World Cup.
Luis Suarez, back in action just four weeks after knee surgery, scored twice in the tense Group D encounter, either side of Wayne Rooney's first ever World Cup goal in Sao Paulo on Thursday.
For the second Uruguayan goal, Gerrard mistimed a header in midfield and it fell to Liverpool team-mate Suarez, who smashed home the winner five minutes from time.
The veteran 34-year-old midfielder, who said the result was a "personal low", admitted the goals conceded were "sloppy".
"We have to take responsibility for that as a team," he said. "The first one, he's peeled off onto the back post, it's a fantastic ball by (Edinson) Cavani. We'll have to look at that.
"The second one I've tried to get good contact on the ball and I haven't got good enough contact on it."
Gerrard said perhaps the side should have settled for a point after equalising with just 15 minutes to go.
"I just thought when we got the equaliser today we needed to be a bit more clever, a bit more cute, be a bit more difficult to beat," said the midfielder.
"Maybe accept that going for a point might be the best option but they were weak at the back. They were there for the taking and once we got the equaliser we tried to take the initiative."
The result leaves England pointless in Group D, with Italy, Costa Rica and Uruguay all on three points. But if Italy beat Costa Rica and Uruguay, England could still progress.
"It's a really tough moment for everyone in the dressing room but we need to be professional and keep fighting and play for that small glimmer of hope," Gerrard said.
Manager Roy Hodgson agreed.
"Our chance is unbelievably slim. It will depend of course on Italy winning their next two matches and winning by a number of goals, and us beating Costa Rica by the requisite number of goals," he said.
"To be sure of continuing we needed a result today, a draw or a victory, and we didn't get it."
- AFP