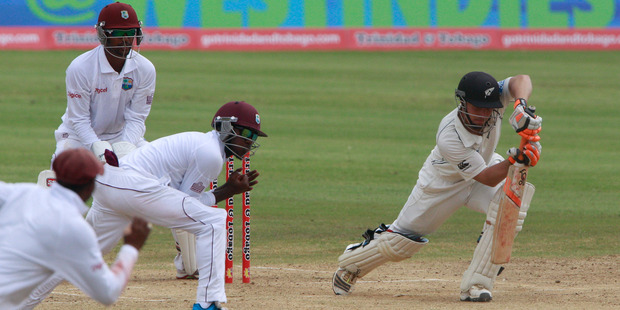 That New Zealand took the second test into the final day is hugely to the credit of BJ Watling and tyro Mark Craig.
Their unbroken 45-run stand ensured that New Zealand can have a prayer meeting overnight - "Please Lord, the locals need some rain" - otherwise, barring a truly remarkable rearguard action, the teams will go to Barbados with all to play for.
Watling, who has so often been a rock in the middle to latter stages of New Zealand innings of late, has battled through 61 overs for his 38; Craig has done sterling work over 102 balls for his 29.
Since his first innings duck at Wellington against India in February, Watling has scored 124, 89, 22 not out, 0 and 38 not out.
That pair have avoided an innings defeat, and would be entitled to cast a sideways glance at some of their team mates' batting efforts today.
Tom Latham got a cracking ball from Sulieman Benn, who spat up at him, but Ross Taylor and Ish Sodhi attempted forcing shots outside off stump they didn't need to play, while Tim Southee's 15 off 12 balls and subsequent loose shot were hardly what was called for.
Along the way Jimmy Neesham fell to a superb return catch by big Benn, low to his right, and Hamish Rutherford made a judgment error, shouldering arms to a right armer coming around the wicket to be lbw.
Had Rutherford, produced a decent score he could have ended the debate over which two out-of-sorts openers, Peter Fulton or himself, should get a second opportunity in the third test alongside Latham.
So in pockets there was fight, but not enough, and not consistently enough.
The West Indies bowlers are far removed from the largely sorry lot who toured New Zealand last summer.
Jerome Taylor and Kemar Roach have added punch while Benn, an average performer in New Zealand five and a half years ago, has done admirably.
Assuming they wrap up the victory tomorrow - which would be only their second in the last 14 years at Queen's Park - who will take the momentum to Kensington Oval in Barbados? The home side you would imagine.
Therein lies the rub for New Zealand, who took a grip on the series in Jamaica but have been second best throughout the first four days.