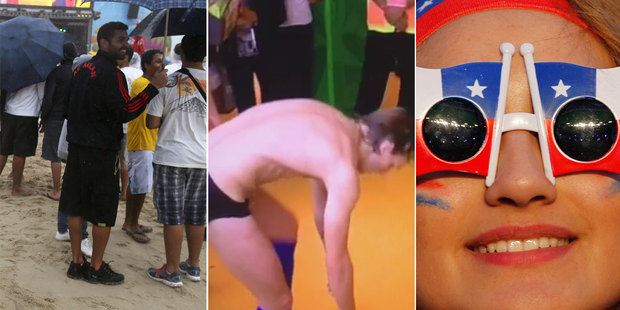 The latest news from the Football World Cup in Brazil including players swapping shorts and an exclusive interview with a man who looks like the Brazilian coach.
LOOKALIKE LAPSE
Mario Sergio Conti, a well-known Brazilian syndicated columnist, couldn't believe his eyes Wednesday when he boarded a plane going from Rio de Janeiro to Sao Paulo.
There, sitting in one of the seats, was none other than the coach of Brazil's national team, Felipe Scolari. Or so he thought.
The man was really Vladimir Palomo, a Scolari lookalike who did not reveal his real identity when he gave Conti an interview in which among other things he said he was surprised by Spain's early elimination from the World Cup, praised Neymar and said Italy, the Netherlands and Germany were Brazil's biggest rivals.
The interview was published Wednesday night by the websites of the influential Folha de S.Paulo and O Globo newspapers, which hours later took down the story when it was revealed Scolari was not on the plane and that he had spent the day in the northeastern city of Fortaleza.
The two websites published corrections and apologies.
"Mario Sergio apologizes to Scolari, Palomo and its readers for the confusion," the Folha de S.Paulo news website said.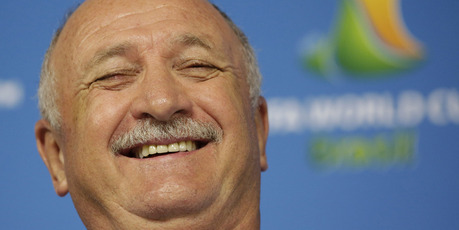 CAN I HAVE YOUR SHORTS?
Croatia's Ivan Rakitic and Cameroon's Stephane M'Bia took post-match shirt swapping to a new level yesterday - deciding to trade shorts as well after Croatia's 4-0 win.
The two former Sevilla players shared a friendly chat before stripping down to swap gear in the tunnel after the game.
DUTCH TV HOST RESIGNS ROLE OVER TWEET
A Dutch television host and actress has quit as an ambassador for her country's national committee of the United Nations children's fund, UNICEF, after tweeting a photo that had been manipulated to appear to show two Colombian footballers snorting white lines off the pitch.
Nicolette van Dam had earlier apologized and removed the offending tweet after media in Colombia reacted angrily to the fake photo, which was clearly intended to link Colombia with cocaine use.
"Queridos Colombianos, there was no offense intended from my side," she tweeted. "Please accept my honest and sincere apologies. #RespectColombia."
UNICEF condemned the post Thursday in a statement out of New York, calling it "inappropriate and highly offensive."
The Dutch national committee of UNICEF said on its website that Van Dam had quit "out of respect for our work," adding that the reactions to her insensitive tweet Wednesday had made her position as ambassador "untenable."
Van Dam "had not realized that there was so much sensitivity in South America about this issue," the statement said.

CURSED CURITIBA
You've got to feel for the football fans of Curitiba.
First, when the draw for the 2014 World Cup took place last year, the southern Brazilian city's allocation of games, with all due respect to the teams involved, wasn't as high-profile as others.
Well, at least the fans would get to see Spain, the defending champion.
They will still see Spain on Monday, but it will be a team that has already been eliminated from the tournament. Not only that, but Spain's opponent at the Arena da Baixada, Australia, also can't advance.
It's what is known in the parlance as a dead rubber, a game bereft of meaningful consequence.
The disappointment is evident throughout this well-manicured city that has been at the forefront of urban planning in Brazil and beyond.
One FIFA volunteer, who wouldn't give his name in line with the football governing body's scriptures, said everyone was "naturally upset" as Spain was the highlight in the city's World Cup allocation.
Curitiba's football fans have already seen one game, but the 0-0 draw between Iran and Nigeria was a fairly drab affair with few chances.
The other two matches in Curitiba are Ecuador-Honduras on Friday and Russia-Algeria next Thursday.
BEACH GAME
If you are in Brazil for the World Cup, the next time you take a stroll on the beach and see one of the traditional football matches played on the sand, you might want to take a closer look. Some major star could be among those young guys kicking balls.
On Wednesday afternoon, Manchester United striker Javier "Chicharito" Hernandez and six of his teammates on the Mexican team decided to take advantage of the day off given to them after a 0-0 draw with Brazil and spend a few hours playing ball with the locals at Iracema beach.
Along with Hernandez, Hector Herrera, Diego Reyes, Alan Pulido, Raul Jimenez, Marco Fabian and Miguel Ponce went out to put their skills on display on a different surface.
Some Mexican fans who were walking near the beach noticed them and got some cool pictures with the players.
- AP