Honduras left fuming after technology appeared to initially rule out France goal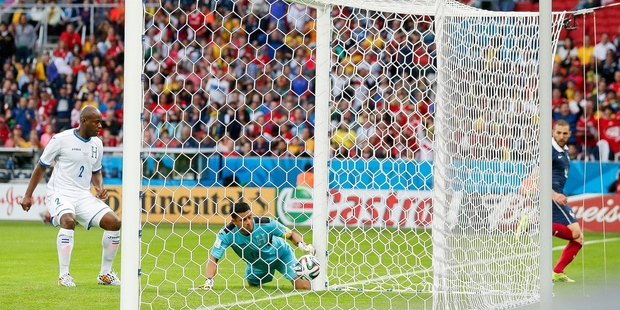 Goal-line technology did its job when it counted at the World Cup, although not without a little bit of confusion.
France was the beneficiary of the first World Cup goal awarded thanks to the new system being used in Brazil, which ruled correctly that Honduras goalkeeper Noel Valladares had narrowly spilled the ball over his own line.
That gave France its second goal in a 3-0 win and helped rule out any real controversy in a situation that would have been difficult for any referee to judge correctly.
However, Honduras players and coach Luis Suarez were still angry after the video replay showed two separate incidents and therefore conflicting results.
The goal came in the 48th minute, when Karim Benzema's shot hit the far post and rebounded to Valladares, who fumbled the ball into the goal. The seven video cameras trained on the goal established that the ball had briefly crossed the line by a few centimetres, alerting the referee on his watch with a flashing "GOAL," before the ball was pushed out again by Valladares.
The confusion happened when the system showed replays of Benzema's shot hitting the post with the verdict "NO GOAL" before continuing to show the rest of the sequence and the ball crossing the line. The change infuriated the Honduras players, some of whom remonstrated with referee Sandro Ricci, while Honduras coach Luis Suarez bickered with France coach Didier Deschamps. At the end of the match, they hugged and made up.
"Well, I wasn't angry because they accepted the goal. I was angry because they didn't accept the goal. The first decision was 'No goal' and then the machine said it was a goal," Suarez said. "If the technology sends a clear message, then I don't understand how the system can say it's a goal first and then, 'No goal.' What is the truth?"
Deschamps had some sympathy with the Hondurans over the images that were broadcast by organisers.
"The only problem was that they showed an image on the screen that didn't correspond to the goal," the France coach said. "They showed the ball hitting the post when the ball hadn't crossed the line yet. The ball was clearly over the line after the goalkeeper had fumbled.
"Obviously, I can put myself in their position and, of course, they were very angry and so were the fans - because if you're going to show an image it should be the right one."
As for the use of technology, though, he said: "It's a very good thing."
Fifa responded to the criticism by saying that "in order to ensure maximum clarity in the future for those unfamiliar with [goal-line technology], Fifa will review the coverage of this match ... to see if any improvements can be made to enhance the viewing experience ... "
Benzema scored France's two other goals.
- AP