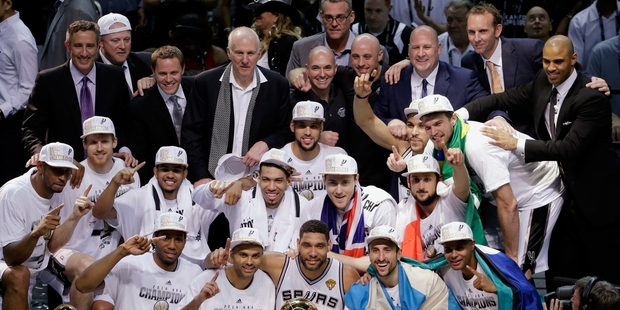 New Zealander Sean Marks has added to his collection of NBA title-winning rings as the San Antonio Spurs completed a dominant series against LeBron James' Maimi Heat.
In 2006, Marks won a championship as a bench players with the Spurs and after a well-travelled career, made his way back to the franchise in 2012 when he was named director of basketball operations for the Spurs. He became an assistant coach to Gregg Popovich last year.
The Spurs ended the Miami Heat's two-year title reign with a 104-87 victory that wrapped up the series in five games.
A year after their heartbreaking seven-game defeat, their only loss in six finals appearances, the Spurs won four routs to deny Miami's quest for a third straight championship.
"Hard to believe, isn't it?" Manu Ginobili said. "We played at a really high level."
Finals MVP Kawhi Leonard had 22 points and 10 rebounds for the Spurs, who added this title to the ones they won in 1999, 2003, 2005 and 2007. They nearly had another last year, but couldn't hold off the Heat and lost the final two games.
San Antonio rebounded from an early 16-point deficit by outscoring the Heat 37-13 from the start of the second quarter to midway in the third, kicking off the celebration the Heat cancelled last season.
"We remember what happened last year and how it felt in that locker room and we used it and built on it and got back here and it's amazing," Tim Duncan said. "It makes last year OK."
LeBron James had 17 first-quarter points to help the Heat get off to a fast start. He finished with 31 points and 10 rebounds for the Heat, who lost their spot atop the NBA to the team that had it so long.
"They played exquisite basketball this series and in particular these last three games and they are the better team. There's no other way to say it," Heat coach Erik Spoelstra said.
The Spurs won four titles in nine years, but hadn't been back on top since 2007, making Foreigner's Feels Like the First Time an appropriate song choice after the final buzzer.
Tim Duncan and coach Gregg Popovich have been here for all of them, and it was the fourth for Tony Parker and Ginobili.
A decade and a half after winning their first title in 1999, when Duncan was in his second season, the Spurs remain the NBA's model organisation, a small-market team that simply wins big and hardly ever does it with a high draft pick. Instead, the Spurs found players overseas or in other organisations who would fit the Spurs' way of doing things and mesh with the Duncan, Parker and Ginobili, the winningest trio in post-season history.