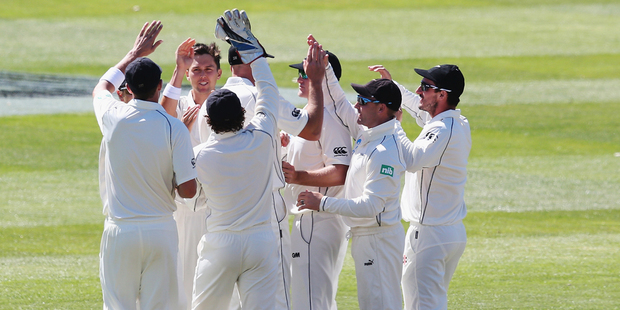 Famine to veritable feast; that's becomes New Zealand's lot in test cricket after their remarkable 186-run win over the West Indies in Jamaica today.
Done with a day to spare, it means New Zealand have won their last three tests against the Windies - taking in victories in Wellington and Hamilton last December - and is their 12th overall out of 43 clashes between the teams since 1951-52.
Before that Basin Reserve victory New Zealand had gone 10 tests without success. Talk about doldrums.
Now Brendon McCullum's team can genuinely contemplate a third successive test series win, which would be the first since they beat Sri Lanka, Zimbabwe and the West Indies in a row from 2004 to 2006.
It was a win in a match they dominated from the start.
Kane Williamson's sixth century, Jimmy Neesham's second and Tom Latham's fine start to what could be a lengthy stint as a test opener laid the groundwork; Tim Southee and debutant offspinner Mark Craig followed through to ensure a 246-run first innings advantage; and the bowlers finished the job amid another Calypso crumble - final partnership entertainment from Shane Shillingford and Sulieman Benn notwithstanding - as the hosts folded in 47.4 overs.
Last man Shillingford's second quickest alltime 50 - 25 balls, one more than South African Jacques Kallis - took a bit of shine off the denouement, but with the target 403 it was never going to be more than a breezy treat for the disappointed home fans.
As that winless run rolled on, McCullum and coach Mike Hesson kept insisting good things weren't far away.
This was treated with some scepticism at the time. However they have been proven right.
There are good reasons for optimism. The bowlers worked effectively, the first innings batting was again impressive and in man of the match Craig New Zealand have uncovered a highly encouraging spin option.
Craig's inclusion in the test was completely justified, and he produced the best figures by a New Zealand bowler on debut, eight for 188.
Just think how different it would have been had Jeetan Patel said 'thanks' instead of 'no thanks' when offered the trip.
Patel opened a door and Craig has marched through it.
The second test starts in Trinidad early on Tuesday (NZT).
The maturing of this team, the pieces nestling in place and, in the case of Craig, a debut which hints at good things to come, is hugely encouraging.