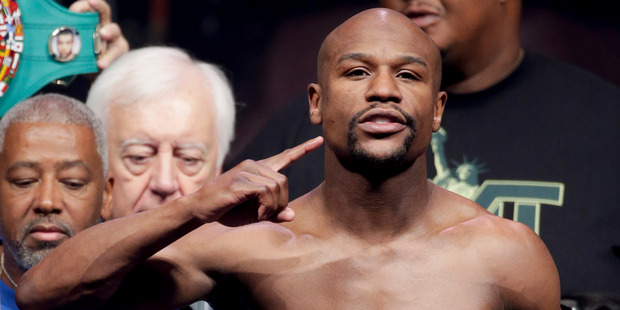 Undefeated boxing superstar Floyd Mayweather has been named the highest-paid athlete in sports by Forbes magazine, bumping off 2013 winner Tiger Woods by amassing US$105 million (NZ$122.7million) in net revenue.
Mayweather also topped the list with US$85 million in 2012, ending 14-time major golf champion Woods' run atop the 100-athlete list from 2001-2011.
This time, Mayweather joined Woods as the only ones to top US$100 million on the Forbes list, thanks to victories over Canelo Alvarez last September and Marcos Maidana last month, and did it with only 72 minutes of work and with no endorsement income.
"I'm humbled and extremely fortunate to be recognised by Forbes as the highest-paid athlete once again," Mayweather said.
"I'm doing something no other athlete is doing, promoting myself and seeing my hard work pay off in the form of record-breaking numbers.
"It's all about hard work and dedication which is so important and a key part of my financial success."
The magazine measures endorsement income as well as prize money and salary payments from June 1 of one year to the next.
Woods, who also lost his world number one status in golf last month to Australian Adam Scott, lost ground due to the end of a video game deal and a pinched nerve that kept him out of the Masters and this week's US Open.
Real Madrid star Cristiano Ronaldo leads 15 footballers in the top 100 and ranks second overall with US$80 million in earnings.
NBA superstar LeBron James ranked third on US$72.3 million, while Argentine football star Lionel Messi ranks fourth at US$64.7 million.
Injured NBA standout Kobe Bryant was fifth at US$61.5 million, and Woods ranked sixth overall with earnings of US$61.2 million.
The list of 100 made a collective US$2.75 billion in the past year, a five per cent hike over last year's total.
Only three women made the list, the same tennis trio as last year, with Russian star Maria Sharapova - coming off her fifth Grand Slam triumph at the French Open - the highest among them at 34th with US$24.4 million.
China's Li Na, who won the Australian Open in January for her second Grand Slam crown, was 41st at US$23.6 million.
Serena Williams ranks 55th with US$22 million in earnings split evenly between prize money and endorsements or appearance fees.
Highest paid athletes
1 - Floyd Mayweather (boxing) - US$105 million
2 - Cristiano Ronaldo (football) - $80m
3 - LeBron James (basketball) - $72.3m
4 - Lionel Messi (football) - $64.7m
5 - Kobe Bryant (basketball) - $61.5m
6 - Tiger Woods (golf) - $61.2m
7 - Roger Federer (tennis) - $56.2m
8 - Phil Mickelson (golf) - $53.2m
9 - Rafael Nadal (tennis) - $44.5m
10 -Matt Ryan (NFL) - $43.8m
-AFP