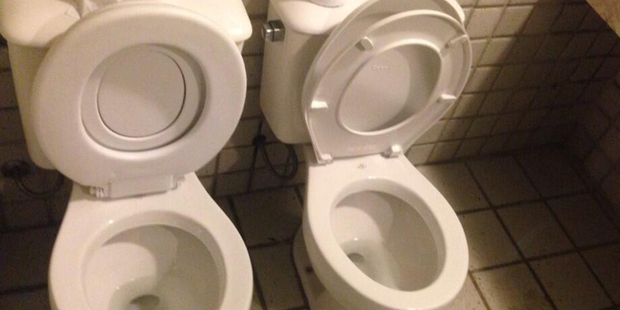 From double toilets in Brazil to Le Bron James going to the movies by himself, Daily Shorts takes a look at the lighter side of sport.
Brazil seem to have embraced the double toilet idea first made famous by the Sochi Winter Olympics - much to the confusion of Italy's Andrea Ranocchia.
The Azzurri defender, who is only at the World Cup as emergency cover, clearly missed the multi-toilet joke back in January and posted a picture of the loos in Italy's training camp alongside the caption: 'But why??? To never feel alone?'
Ma perché??? Per non sentirsi mai soli??? pic.twitter.com/OVSim2mF0B

— Andrea Ranocchia (@23_Frog) June 6, 2014
Vine of the day:
Former Manchester United midfielder Paul Scholes was notorious at the club's training ground for pinging 50-metre balls at teammates who had made the mistake of turning their backs.
It appears he's lost none of his touch, taking time from an interview to politely ask a couple of noisy fans to keep the noise to a minimum...
LeBron heats up with Jolie
LeBron James is currently trying to lead Miami to a game three victory over San Antonio in the NBA Finals. If he pulls it off, the Heat may owe a debt of gratitude to Angelina Jolie.
The day following his cramp-induced exit from the game one defeat, LeBron was looking for some downtime to recover. Where better to head than the local cinema?
@KingJames clears his head following Game 1 at the movies. https://t.co/kLk50kU8jQ #nba pic.twitter.com/PO9O6gHaAR

— [ NBA News ] (@GetInsideNBA) June 9, 2014
James caught the 5.40 pm showing of Maleficent and, despite owning one of the most famous faces in America, he appeared to enjoy the movie undisturbed.
The hopes of every World Cup nation, explained in one handy Venn diagram:
CLASS: The 'World Cup Hopes' diagram. pic.twitter.com/ef2tu5Bido

— BBC Sporf (@BBCSporf) June 10, 2014
But not everyone is looking forward to the World Cup...
Soccer is evil... pic.twitter.com/JaxoVza6YH

— Soccer Shame (@soccershame) June 7, 2014
It didn't work
The Tampa Bay Rays, who won 92 games last season to make the Major League Baseball playoffs last season, currently have the worst record in the league.
Rays manager Joe Maddon is known for his inventive approach to coaxing improved performance out of his players, earlier this year putting out a variety of 'dad' colognes to stop his side from stinking.
That didn't work so it stands to reason he would try something else, yesterday bringing in a Seminole medicine man and "letting him loose" at the Rays' Tropicana Stadium.
But, with 77-year-old tribal elder Bobby Henry watching on, the Tampa Bay's struggles continued, losing 3-0 to Seattle.