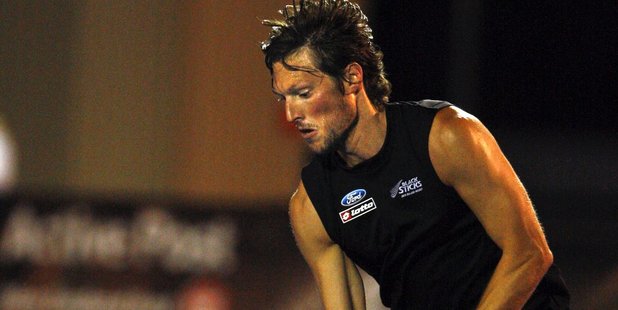 A brilliant individual goal by striker Simon Child earned New Zealand a 1-1 draw with hosts the Netherlands in their final men's World Cup pool B game in The Hague today.
The Dutch had taken a first-half lead through a sharp reverse stick shot by Valentin Verga, helped by sloppy marking, after eight minutes.
However New Zealand toiled hard, created chances and were richly rewarded when Child went on a 30m run, swerved past four Dutch tacklers before spinning and slapping a shot past Dutch goalkeeper Jaap Stockman.
New Zealand had three penalty corners but drag flick maestro Andy Hayward was thwarted on each occasion by the impressive Stockman.
The world No 3 Dutch also had three opportunities from the set piece, but were unable to convert.
Goalkeeper Hamish McGregor marshaled a resolute New Zealand defence, and Child gave the sixth-ranked Black Sticks an immensely satisfying result.
Olympic champions Germany tonked Korea 6-1 but missed out on the last four.
Child was pleased with his effort but felt New Zealand's overall performance at the cup had been below what they had hoped for. The 3-1 loss to semifinalists Argentina had damaged their hopes, he admitted.
''It's always nice to score goals on the big stage so I was really pleased about that," the Auckland attacker said.
''It was a fantastic game for us, a great atmosphere and Holland are a fantastic team.
''But we were a little bit disappointed in the Argentina game. We had targed that as a must win."
Child felt the Black Sticks had struggled to put together a consistent run of form over the course of their five round robin games.
New Zealand will play Spain for seventh on Sunday night (NZT) while the women's Black Sticks will play China - at No 7 ranked two places lower than the Kiwi women - for fifth spot on Saturday night (NZT).
The Netherlands finished top of the group despite the draw and will now face fourth-ranked England in the semifinals. The other semifinal will be between world No 1 Australia and 11th-ranked Argentina, who confirmed their place with a 5-1 win over South Africa.
The women's semifinals will have the top-ranked Dutch against Argentina, and Australia against surprise packages the United States.