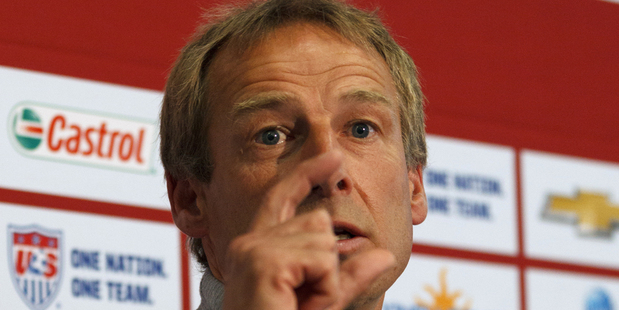 From players cleared to have sex at the World Cup to a baseball journo having his screen smashed at a game, Daily Shorts takes a look at the lighter side of sport.
Should players be allowed to have sex at the World Cup?
Every four years, this question becomes a story. Some coaches forbid Cup-sex under the dubious reasoning that it tires out players, some frown upon it, but USA coach Jurgen Klinsmann is cool with it.
"We are very casual in the way we approach things," Klinsman said. "Their families can come pretty much any time, they will be at the games, they can come to the hotel and we can have barbecues together. I think every nation is different.
"I played in different countries where you didn't see your girlfriend or your wife for two months.
That was more the Italian background when I played in Italy. Every team and every country handles that differently based on their culture. So I respect the Mexican approach because it is their culture."
Klinsmann was referring to Mexico coach Miguel Herrera, who barred his players from consorting during the tournament. "If a player cannot endure a month or 20 days without having intercourse, then you are not prepared to be a professional," Herrera said. "Let's play a World Cup, we're not going to a party."
Now for some (terrible) jokes:
* Jürgen has only one rule; only the keepers can use their hands.
* I'm not sure this is the right move by Klinsmann. This team will be feeling the burn before the tournament even starts.
* What's a couple more sexual escapades? The USA have already been screwed by the draw.
New Zealand too friendly?
A study into yellow and red cards at FIFA World Cups has found that New Zealand is one of the leading teams in not entering the referee's book.
Slovenia lead the way as the most aggressive, with one red card and 19 yellows in just six matches at an average of 3.33 cards per game. The All Whites sit near the bottom at an average of just one card per game but it could have made much better reading before the 2010 campaign. In South Africa the All Whites earned six yellow cards, Ryan Nelsen twice while who can forget Winston Read's yellow for taking off his shirt following the late equaliser against Slovakia?
But in 1982, New Zealand did not receive one card...and conceded 12 goals in the process. As the saying goes, nice guys always finish last.
Penalty kick tips
The BBC has produced a feature on what makes the perfect penalty attempt. It's probably worth reading for the English since they have lost six shoot-outs in their last 10 major tournaments while Italy went through a run of three straight tournaments ending in a shoot-out (1990 semifinal, 1994 final, 1998 quarter-final).
Here's a graphic of every shoot-out penalty taken at the World Cup. Go straight down the middle and you have a 80% change of scoring.

All 204 penalties taken in World Cup shootouts. 144 goals and 60 misses. via @bbc. #infographic pic.twitter.com/HdTvidLcHj

— Eight by Eight (@8by8mag) June 4, 2014
The World Cup - for sheep
Ball smashes baseball journo's laptop
Baseball reporter Mark Sheldon was just about to send his match report of the Cincinnati Reds game against the San Francisco Giants when a foul ball smashed his laptop. No love from the fellow journalist whose first reaction is to take a photo with his phone.
Throwback Thursday:
Jerome Kaino returns in the back jersey on Saturday for the first time since the 2011 World Cup final. Our throwback this week is his amazing tackle of Digby Ioane, where he lifted the Aussie speedster away from the tryline during the World Cup semi. The Aussie commentary and disbelief makes it even better.