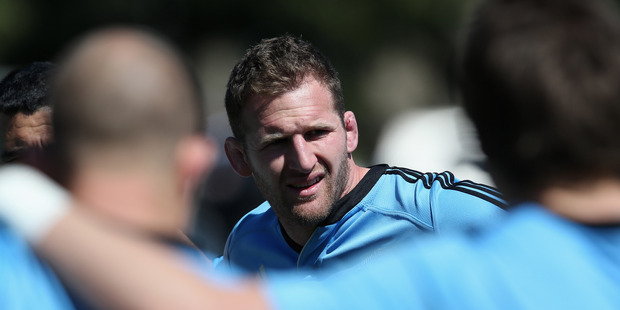 Think All Black No8, think Kieran Read for the bulk of his 61 tests.
Since he worked his way from the blindside duties to the back of the scrum at test level in the middle of 2009, only injury or the need for a rest have changed that selection.
It has not been so comfortable on the blindside.
In that same time Jerome Kaino, Adam Thomson, Victor Vito, Liam Messam and Steven Luatua have all had a spin. Eventually Kaino was the most secure until he left for work in Japan.
It seems to be the revolving puzzle for the All Black selectors.
Thomson has taken up an offshore deal and Luatua, like the others, has found it difficult to sustain the impact he produced in his debut international season. Kaino, Messam and Vito all got the early staggers before they recovered.
If the template the selectors are seeking at No8 is best demonstrated by Read then Vito looks the best bet to mirror that style of play.
There has never been any doubt about his tremendous athletic gifts which would allow him to duplicate Read's style of work and offloads out near the tramlines.
The questions were about Vito's ability to deliver repeat physical work with and without the ball in the middle of the park warfare.
He blamed his fertile brain for some of his form variation, suggesting he thought too much about what he should do instead of trusting his instincts.
At times that production line wavered although the All Black selectors noted Vito's consistent impact this season, clipped his ticket and sent Luatua back to the improvement workshop. That leaves Messam and Kaino to resume their duel on the blindside flank.
Kaino began in that role in 2004, had a stint at No8 before starring in 2010 and the last World Cup on the blindside. He has returned from a stint in Japan, refreshed and hungry for a shot at defending the Webb Ellis Cup next year.
He has swapped between No8 and blindside for the Blues in the Super 15 but at test level, his instincts look best suited to the blindside and perhaps a restoration of the superb Richie McCaw-Read-Kaino loose forward combination at the last World Cup.
Messam will be up for that inter-squad scrap. Since Kaino disappeared, he has played 20 of his 29 tests in a strong run of form in the past two seasons. He has pared back his game, refined it for the All Black demands on defence, at the breakdown and in support while still uncorking his natural flair when situations demand.
If their frames survive, McCaw and Read are cast-iron test selections, but the blindside decisions are not so clear. Messam and Kaino will both get runs against England in what will be a very useful comparison for the selectors as their focus pans out towards the Rugby Championship.