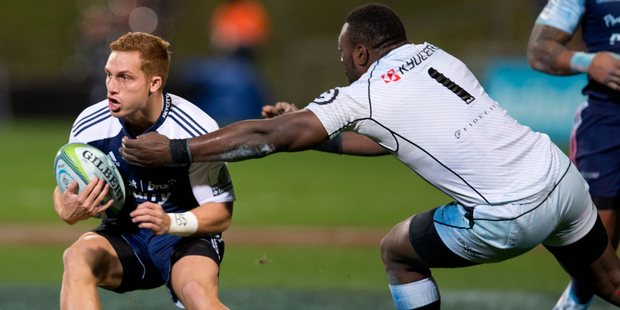 BLUES 23
SHARKS 29
These last two weeks for the Blues have been a bit like watching the Titanic sink. They hit the iceberg in New Plymouth and now there is nothing they can do to prevent their fate.
A major part of the hull slipped under water tonight when they had no real answers to the power and organisation of the Sharks. The men from Durban offered precisely zero surprises and will end up back home top of the Super Rugby pile and a fair bet to win the whole thing.
They didn't deviate from a game-plan that surely the Blues would have seen coming.. It was straight between the eyes stuff from the Sharks - big, aggressive defence, blitzing the breakdown and kick-chase, kick-chase. Oh and a bit of nonsense around the tackled ball - the usual sort of stuff: the odd flop onto the wrong side here; a stray hand there.
It cost them two yellow cards but the Sharks don't seem to mind about playing numbers at the moment: they fancy they can win it with 14, probably 13...12 if it comes to that.
Once again, as they were in Christchurch, the Sharks were simple but effective and the Blues couldn't escape free from the smothering grasp. They couldn't stay on the front-foot; they weren't able to bend the defence.
Ma'a Nonu tried, of course he did because that's what he does in Super Rugby these days, but even he couldn't find any space. Even he couldn't find a way over the gainline.

Even Jerome Kaino couldn't get as far over as he normally does and for all their bash and dash and genuine endeavour, the Blues couldn't jiggle the game free. They couldn't open up the Sharks and force them to play wider and at a higher tempo.
What developed as a result was an honest to goodness, old-fashioned rugby contest with forwards having to play like forwards and goal-kickers having to slot their goals. It was quite refreshingly different to the early season frivolity Super Rugby throws up.
The questions asked about character and commitment were that bit tougher and there was no way of faking. The Blues can at least be certain that they lacked nothing in the heart department.
They didn't have anyone go missing and it wasn't lack of effort or bravery that saw them come up short. It was, partly, another superb effort from the Sharks and a touch of missing composure from the Blues - especially in the final third of the field.
They had enough territory and possession in the second half to just about sneak home but not the patience or accuracy.
Blues 23 (L.. Braid, T. Li tries; S. Hickey con, 2 pens; I. West pen; con)
Sharks 30 (B. du Plessis, J. Reinach tries; F. Steyn 2 pens, con, DG; S. Marais pen)