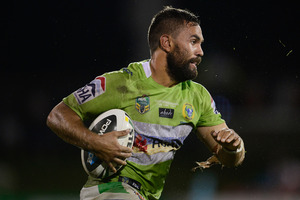 Rookie Canberra centre Matt Allwood is the latest Warriors recruit, with the club confirming his signing today.
The club has long identified centre as a priority recruitment area, with Kiwis veteran Steve Matai among several believed to have been targeted.
However Allwood is definitely being signed on potential - the 21-year-old has made just nine first-grade appearances and made his debut in round one of this year.

Warriors coach Andrew McFadden knows Allwoods' abilities well, after his time as assistant coach of the Raiders from 2010-2012.
"I saw Matt come through Canberra's system into the NYC and was impressed with him from the outset," said McFadden.
"He's quick and he's a tough kid, too. It's great to have a young player of his ability coming into the club to add to add depth and quality to our centres.
"It will help make the environment really competitive, which is just what we need."
While excited about linking up with the Warriors and working alongside McFadden, Allwood said he was indebted to Canberra.
"I'm grateful for the opportunity the Raiders have given me to play at the club from a junior level and to make my NRL debut with them is something I'll never forget," he said.
"Although I've signed a new deal with the Warriors, I'm still committed to playing out the season for the Raiders and hopefully finishing my time with the club on a high.
"I'm looking forward to working with Andrew McFadden at the Warriors and the chance to continue to build my NRL career."
Born in Scone in New South Wales, Allwood has represented New South Wales at both under-17 and under-18 levels.
Allwood graduated to Canberra's fulltime NRL squad last season after making 32 NYC appearances in 2011 and 2012.
Last year he played for the Raiders' feeder club the Mounties in the New South Wales Cup.