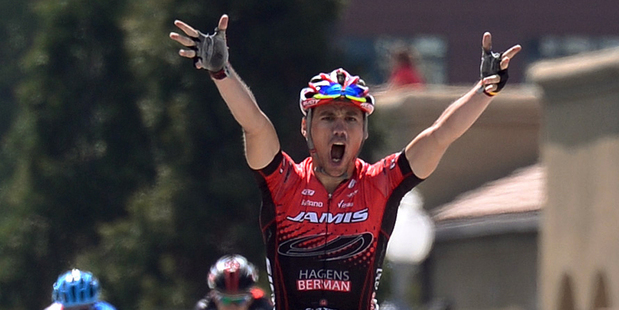 From premature celebrating to a smooth baseball fan, Daily Shorts looks at the light-hearted side of sport.
Not so fast
Spaniard cyclist Eloy Teruel thought he'd secured the seventh stage of the Tour of California in the weekend after crossing the finish line...with one lap to go. Teruel lifted his arms in delight after racing out in front of the pack to cross the line. It wasn't long before he realised something was up. Probably the fact every other rider were still giving their all was a decent giveaway. He finished the stage in 56th place.
Watch the video
Brave fans
Spot the Atletico Madrid fans in their side's title decider against Barcelona at the Nou Camp on Sunday. Of the entire stadium, fans of the new La Liga champions took up just a small section of the highest part of the stand.

Photo / AP
Atletico meanwhile were left to celebrate their title without a trophy because La Liga chief Angel Maria Villar was 'away'. Any other weekend to take leave.
Smooth move
Nice work by this young baseball fan who was able to get hold of a foul ball and then hand it to a female fan nearby. But in closer inspection he actually held onto the game ball and gave her another one. Well played.
Watch the video
Game of zones
The NBA gets a Game of Thrones makeover. 'Boozer'.
Pic of the weekend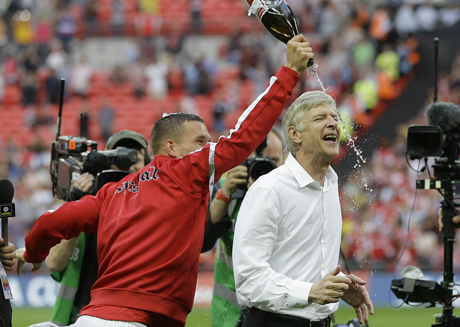 Arsenal's coach Arsene Wenger is doused with champagne by Lukas Podolski. Photo / AP
'Brabham Does It Himself'
Australian motor-racing legend Sir Jack Brabham died today, aged 88. After a bit of YouTube searching we found this gem of him winning the 1966 French Grand Prix in Reims.
Watch the video