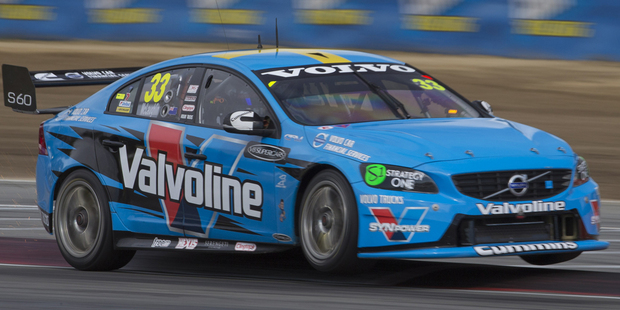 Kiwi driver Scott McLaughlin delivered Volvo their first V8 Supercars win in 28 years with victory in yesterday's opening race of the round in Perth.
The 20-year-old led a New Zealand one-two ahead of Fabian Coulthard in second place, a result which moves Coulthard to second overall in the championship.
McLaughlin, who has been a standout performer so far this season, crossed the line at Barbagallo Raceway 0.75 seconds ahead of his compatriot to stand atop the podium for the third time in his short career.
His victory also meant Volvo, who became the fifth manufacturer to join the field in 2014, broke a championship race drought that stretched back to 1986.
"I'm very stoked to have it happen,'' he said. "It was a big decision to be with Volvo and just to continue my career at [Garry Rogers Motorsport]. We went through some rough times while doing that and it was a bit emotional.
"So to do it and to show that I've made the right decision is a big thing in my life and my career.''
McLaughlin initially failed to make the most of his fourth pole of the season, with championship leader Craig Lowndes getting the jump on him heading into the first corner. The Kiwi briefly dropped to fourth but, after passing veteran Russell Ingall on lap seven, hauled his way back to reclaim the lead from Lowndes 12 laps later.
With low grip causing tyre degradation, most drivers settled for a tyre stop and McLaughlin showed superior speed after the change to push past the Ford of Chaz Mostert and claim the victory. Coulthard waited longer for his tyre change but also found excellent late speed to edge Mostert and Mark Winterbottom for second.
Before yesterday, McLaughlin had already claimed three podiums and as many poles in the new S60 - plus a non-championship triumph at the Australian Grand Prix. But the youngster wasn't about to get complacent and predicted there would more wins were on the cards for his factory-backed outfit.
"Yeah, for sure, we're not slowing down,'' he said. "We just want to keep going and we'll keep working hard to do that.''
In the day's second race, McLaughlin started from second on the grid but, after almost missing the start to fix a broken exhaust head, he placed fourth, once again crossing one spot ahead of Coulthard.
Holden veteran Craig Lowndes took race two honours, equalling Mark Skaife's record for most wins at a single track at 15. He crossed the line ahead of championship leader Mark Winterbottom and defending champion Jamie Whincup.
Winterbottom now holds a comfortable 110-point buffer over Lowndes on the overall standings, with Coulthard and James Courtney third and fourth, respectively. While Whincup's first podium in eight races helped bump him up a spot to fifth, the gap between the five-time title winner and Winterbottom has widened.
"I'm slowly dwindling away into the pack,'' he quipped.
A longer 200km race today will cap off the round in Western Australia.
-APNZ/AAP