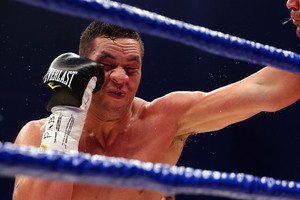 Joseph Parker has seen what goes in to the makings of a champion heavyweight boxer.
The 8-0 Kiwi sparred 45 rounds in the lead-up to last month's bout with Marcelo Luiz Nascimento with Haitian-born Canadian Bermane Stiverne during Parker's training camp in Las Vegas.
Stiverne then went on to claim the vacant WBC heavyweight title with a sixth-round knockout of American Chris Arreola in California yesterday.
"We got a first-hand view on how a champion fighter trains,'' Parker said.
"You see him in the gym and how he works ... With Bermane Stiverne, they did pad work with his coach and a lot of things they do, Kevin [Barry] does with me.''
Parker's trainer Barry has known Stiverne's coach Don House for a long time courtesy of their Las Vegas links and they struck up a solid working relationship.
"It was definitely great sparring for me and it's good to know I'm a main sparring partner for him'' Parker said.
"I could tell that he was a very smart boxer. He didn't waste his punches.''
Stiverne put Arreola on Dream Street with a massive right to the temple in the sixth yesterday before he eventually finished him as the 35-year-old then sunk to the canvas to celebrate his victory.
"He put on a real good performance,'' Parker said. "He looked like he had a lot of power when he hit Arreola with that right hand.''
Parker flew out to Las Vegas last night with Barry as the 22-year-old enters an eight-week training camp ahead of his bout with American Brian Minto in Auckland on July 5.
Stiverne's next opponent remains unclear with undefeated American Deontay Wilder the WBC's mandatory challenger, although Ukrainian Wladimir Klitschko, who holds all the other pieces of the world heavyweight crown, said he would like to unify the titles.
The WBC belt was vacated last year by Klitschko's older brother Vitali as he moved further in to politics.
Whoever Stiverne faces next, Barry was confident Parker would be called upon for sparring.
"We will definitely be involved in his next training camp, which won't be for a while,'' Barry said. "I don't expect him to fight until the end of the year.
"Bermane had a lot of praise for Joseph through our time in camp ... He gave Bermane a lot of good work.''
Aside from completing a collection of sponsor and media commitments during his time in New Zealand, Parker spent a few days off with his family and said he would return to Las Vegas with no lingering issues from the perforated ear drum he suffered in his bout with Nascimento.
Given he fought so recently, Parker will start sparring early in his camp, which will be made up of six weeks in Las Vegas and two in New Zealand.
- APNZ