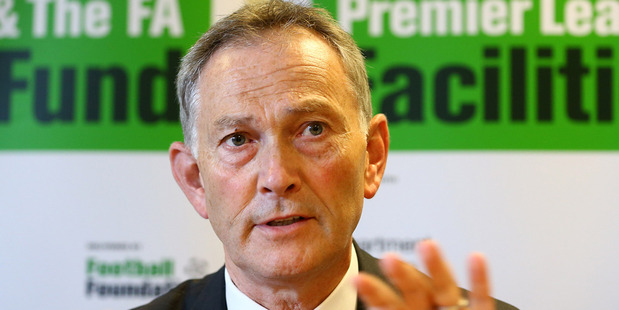 The chief executive of the English Premier League was under pressure to prove his commitment to tackling sexism in sport after the publication of emails in which he mocked "female irrationality".
Women in Football, a network of those involved in the sport, called for a "full and proper investigation" into Richard Scudamore's comments, which former Culture Secretary Tessa Jowell described as "unacceptable".
Emails sent from his work address were leaked by Mr Scudamore's former PA, who told the Sunday Mirror that he had "no respect for women".
Manchester City wins Premier League title
In one email he told a lawyer friend and a colleague: "You will learn over time that female irrationality increases exponentially depending on how many members join your family. That should keep you within the Chinese government's one child per family enforcement rules.
Very clever those Chinese."
He also forwarded a "male fairytale" that read: "Once upon a time a Prince asked a beautiful Princess, 'Will you marry me?' The Princess said, 'No!' and the Prince lived happily ever after and rode motorcycles and banged skinny big t****d broads."
The Premier League today issued a statement on behalf of Mr Scudamore in which he apologised "for any offence caused" by the "inappropriate" comments, saying he had made an "error of judgement" he would not repeat.
He continued: "These were private emails exchanged between colleagues and friends of many years. They were received from and sent to my private and confidential email address, which a temporary employee, who was with the organisation for only a matter of weeks, should not have accessed and was under no instruction to do so."
A Premier League source told the Sunday Mirror that the comments were made in a "Frankie Howerd-style way".
However Women in Football said it expected the Premier League "to conduct a full and proper investigation".
"Sexism, as with racism and homophobia, is not acceptable in the workplace," the group said in a statement. "With power comes responsibility and, as an advocate of women and girls playing more sport and, as Chief of the Premier League, Richard Scudamore needs to take the lead in combating sexism.
"The comments have yet again proved that we are a long way from equality. We will only rid football of sexism when the authorities send out the right messages from the top down."
Ms Jowell said she was "absolutely sure" the Premier League would look into Mr Scudamore's remarks.
"You cannot make protestations of your support for women's football publicly and say this privately," she said, telling the BBC that the emails contained "unacceptable views" but adding that Mr Scudamore was a "decent man".
Georgina Turner, co-author of the book Jumpers for Goalposts, said she was shocked by the "offensive way that Scudamore and his male colleagues talk about women".
"This sort of thing, often written off as 'banter', is arguably a greater obstacle to genuine equality than more public displays of sexism, which can be swiftly acted upon. Its effect is insidious," she said.
"The Premier League could make a real statement with a proper disciplinary response; failure to act, or satisfying themselves with a rap on the knuckles, only repeats the offence," she added.
- UK Independent