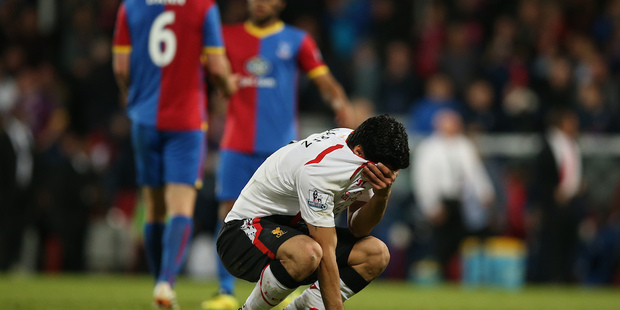 Brendan Rodgers said his Liverpool team had conceded the Premier League title this morning and lamented his side's defensive failings in a "crazy spell" in which they squandered a 3-0 lead at Selhurst Park.
Liverpool conceded three times in ten minutes to draw 3-3 with Crystal Palace, a result that means Manchester City realistically need just four points from their remaining two games to clinch a second Premier League title in three years. They play Aston Villa on Wednesday and West Ham at home on the final day of the season; when Liverpool are at home to Newcastle United.
At 3-0 up, with goals from Joe Allen, Daniel Sturridge and Luis Suarez, Liverpool appeared to try to make inroads into the nine-goal advantage that City hold over them in the goal difference column. Committing players to attack, they were dangerously open at the back and Palace exploited that.
Rodgers said: "We needed to win tonight. Man City have two home games and we needed to win tonight to keep the pressure on. I think City will go on and win their two games now. They will be champions. But for us it's been an outstanding achievement until now. We'll keep looking to build.
"It's hugely disappointing. For 78 minutes we were outstanding, did everything we'd wanted to do, looked solid defensively and didn't have many scares. We had control of the ball and had three goals. But we got carried away, thought we could have more, and lost our defensive structure. To have conceded three was disappointing given the work we'd put in to go 3-0 up.
"We said at half-time the most important thing was to win the game. We started well, then lost our shape a bit in the first half because of that: we thought we could play 'Roy of the Rovers' football and make the goal difference up. But tonight was about winning the game. When we had the structure and discipline to our game, we scored goals and created chances. But we didn't manage the game.
"At 3-0 we gave them a sniff, and they have some good players who can punish you. This is something we'll improve on for next season. We got better this season from last season, and we need to get better again next year."
Rodgers described the three goals as "that crazy spell". He said: "We know we need to be better in that area. We've improved a lot in many aspects of our game. That'll be an area people will look at, and nobody more than myself. But tonight was just about dealing with the situation, with 12 minutes to go and you need that calmness and control to see the game through, and we didn't manage it. The players were so good up to that point."
Palace manager Tony Pulis praised his players who seemed determined to deny Liverpool the victory they needed. He said: "We've played some exciting football. Jason Puncheon has not been well all week but looked tired. Yannick Bolasie looked off it for a bit, but you think he's run out of legs, and then he finds a balloon of air from somewhere and he's up and running again. [Dwight] Gayle has been unlucky this year. Bringing Glenn Murray on with him, Murray took pressure off him.
"It's been a remarkable season for the club. We'll finish 11th in the Premier League when we were six or seven off safety after 11 games. It's been a remarkable turnaround. The players deserve so much credit for their attitude and commitment, for six or seven months."