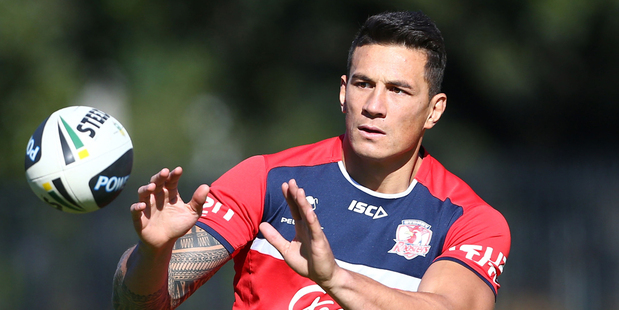 Successful rugby convert Sonny Bill Williams has spoken about his future in the game and how he thought Benji Marshall faced a tough task in his failed switch to the 15-man format.
Williams will return to rugby next season with the Chiefs after winning a Rugby World Cup medal and Super Rugby title in his last switch to rugby before signing with the Roosters, which lead to an NRL title last season and a one year contract extension.
The 19-test All Black, who has played on the wing and in the midfield, told the Daily Telegraph that Marshall faced a big ask when he signed with the Blues from the NRL, mainly because of the position he was playing.
Williams had a slightly different path then Marshall to New Zealand rugby, where he spent two seasons playing for French side Toulon before playing six games for Canterbury in the ITM Cup.
He didn't make his Super Rugby debut until his third season of rugby while Marshall appeared for the Blues after just a number of pre-season games.
"When he went to rugby union I thought it was going to be tough for him when I heard he was going try to play No 10," Williams told the Australian newspaper.
"It's a lot tougher transition to make than being an outside back. A finisher is naturally born for the position. You try to beat a couple of blokes and score. Being a decisive player in the team where you have to make quick calls, and step up, lead the team around, that's hard.
"It was sad to see him come back and not go as well as he hoped. Hopefully he gets an NRL team soon and we get to play against him."
Williams refused to talk about his private life in the interview to promote his signing of a global deal with Adidas - following rumours that his new wife Alana Raffie is pregnant.
But the 28-year-old did hint at the want of fatherhood and how he plans to retire from rugby in a few years.
"For me it's about putting myself in situations where I want to challenge myself. I'm 28 now and I'd only like to play into my early 30's. I want to be able to run around with my kids," he told the Daily Telegraph.
"I've had a successful career but I won't be a player who just hangs around."
Williams said it won't be easy to leave the NRL for a second time.
"It's going to be hard to leave. It's tough. When I came back last year I still felt I was a rugby union player. Now I feel like I've fallen in love with rugby league again."
The enticement of a second World Cup medal and a possible Olympic sevens medal may make the transition back to rugby all that easier.