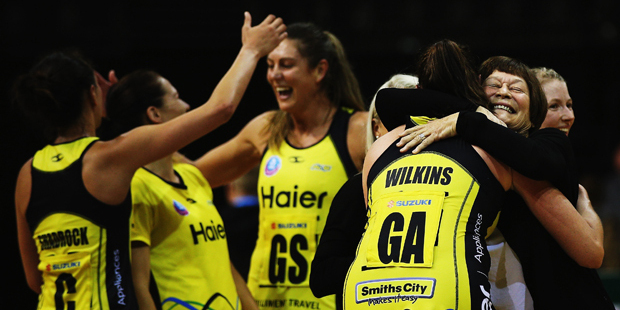 Copping a couple of early-season losses helped the Central Pulse slowly find their identity.
Coming in to this year's ANZ Championship, the Silver Fern-laden Pulse were lumped with huge expectations as New Zealand's major hope in the competition.
A heart-stopping first-up loss to the Adelaide Thunderbirds and a horror upset defeat to the Tactix in round four put serious dents in the Pulse's playoff aspirations and they've been playing catch up for much of the year.
They went down 52-40 to the Melbourne Vixens last week but kept their season alive with a 54-44 victory over the Waikato-Bay of Plenty Magic in Porirua last night.
Robyn Broughton's Pulse showed their fair share of heart to fight back from six goals down in the first quarter as they dominated the Magic through the middle stages of the game.
Their victory saw the Pulse complete the double over the Magic this year and Broughton's side are the only team to have beaten the Magic in 2014.
Broughton said her players wouldn't admit it but they bought in to the expectations placed on them at the start of the season and those early losses gave them a much-needed reality check.
"You kept reading it and you kept saying it and I think they were trying too hard,'' Broughton said. "I think we are just ourselves now and doing our own gameplan and they're great contributors, they're great trainers and they deserve to do well.''
The Pulse's gameplan relies on methodical accuracy and patience to feed their veteran shooting circle of Donna Wilkins and Irene van Dyk.
They aren't the competition's most mobile pair but they make their shots with resounding accuracy and they're tough as they come.
Wilkins copped a nasty cut below her eye last night from Magic defender Leana de Bruin during the first quarter but boxed on to drain 29 goals from 34 attempts.
"I thought that Donna had an outstanding game,'' Broughton said.
With their victory over the Magic, the Pulse kept themselves in playoff contention and are only one win outside the top four with four games remaining.
They have outings against the Tactix and Mystics to come before meeting Australian sides the Firebirds and the West Coast Fever on the road to round out their campaign.
"We need to win one in Australia but we are still there and this will be a good boost for us,'' Broughton said.
"I think we are playing with more confidence. We had a slow start to the season but it's falling in to place.''
Central Pulse 54 (Donna Wilkins 29/34, Irene van Dyk 24/29, Paula Griffin 1/1)
Waikato-Bay of Plenty Magic 44 (Jo Harten 30/35, Ellen Halpenny 9/10, Malia Paseka 5/8) 1Q: 13-15, Halftime: 27-24, 3Q: 42-34
- APNZ