Arsenal manager confident of continuing at club despite team's fluctuating performances.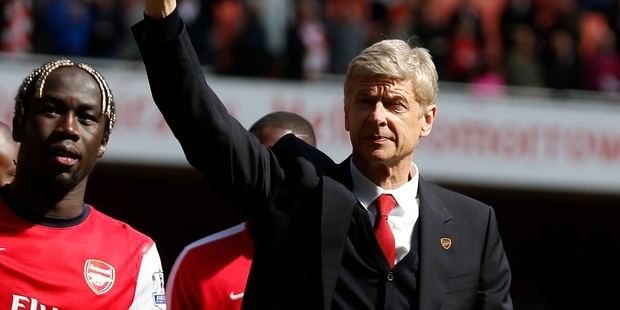 Arsene Wenger played it brilliantly. The way he tells it, he has decided to stay on as Arsenal manager, almost as a kind of favour.
He is willing to continue. The club are made to look like grateful supplicants with no say in whether a great era has run its course.
Those of us who like managers and coaches to be more powerful than owners and directors will stand to applaud.
But let nobody doubt the audacity of what Wenger is saying, in a year when three disastrous defeats away from home cast serious doubt on his right to remain in charge.
Particularly ominous was the 6-0 thrashing at Chelsea in his 1000th game as Arsenal supremo: a performance and a scoreline that conveyed the sense of an ending.
His only doubt, he told us, was whether he felt he could go on being "useful" to this great club. That flicker of uncertainty was extinguished by the fourth-place league finish - confirmed on Sunday by Manchester City's win at Everton.
"You will get rid of me one day," Wenger teased us. It was all cheerful and optimistic. And it was compulsory to marvel at his political skill in controlling the agenda of his own future.
As far as anyone can tell, no one in authority at Arsenal has shown the slightest inclination to make it a two-way discussion, though the odd voice might have been raised had the team finished fifth and stumbled into the Europa League.
The banner that caught the eye at this last home league game was: "It's up for grabs now." That familiar homage to the Michael Thomas goal that won the title for the Gunners in 1989 applies more than ever.
The "it" is the FA Cup, to be contested by Arsenal and Hull City at Wembley this month. Football's oldest knockout competition has decreased in importance for the game at large but increased in value to Arsenal with every kick of a frankly bizarre campaign. Why bizarre? Because when the team's "lap of appreciation" (what happened to "honour?") started around 3.30pm, Arsenal were only four points behind Manchester City and Liverpool in the Premier League table. This, despite a 6-0 defeat at Chelsea, a 6-3 loss at City and 5-1 reverse at Liverpool, not to mention the recent 3-0 flop at Everton, which was followed by four comfortable victories over mid-table opposition.
Fans who had screamed blue murder at the team at times this season were in mellow bank holiday mood as Wenger's men wrapped up a 1-0 victory over West Bromwich Albion a day after Everton's defeat by Manchester City had guaranteed Champions League football in Highbury and Islington for a 17th consecutive year.
Plainly the latest fourth-place finish and the prospect of an end to the nine-year wait for a trophy were powerful mood enhancers.
"You can't buy class," is another long-standing Emirates Stadium banner.
True, in the deportment sense, but absolutely false when it comes to competing with City, Liverpool, Chelsea and Manchester United. Prominent in a sometimes soporific game was Mesut Ozil, the 42 million ($81.8 million) club record purchase who is in "an adaptation period" according to Wenger, and was "a bit jaded physically" before a rest did him good.
Wenger did his usual fine job of apportioning blame to injuries and "slow starts" at Liverpool, City and Chelsea. Part of this adds up. Arsenal were top on January 20 but lost Theo Walcott, Aaron Ramsey, Alex Oxlade-Chamberlain and Jack Wilshere at various points.
Any team can be ambushed by a giant. But it happened four times to Arsenal, if you include the Everton game. Those memories cannot be expunged by consecutive late-season victories against West Ham, Hull, Newcastle and West Brom.
Wenger's loss to English football is indeed hard to contemplate. There is, though, a corresponding need for him to be accountable and not make unilateral decisions about whether he stays, and in what circumstances.
Maybe someone in power needs to say to him while handing him his new contract: "We need and expect better."