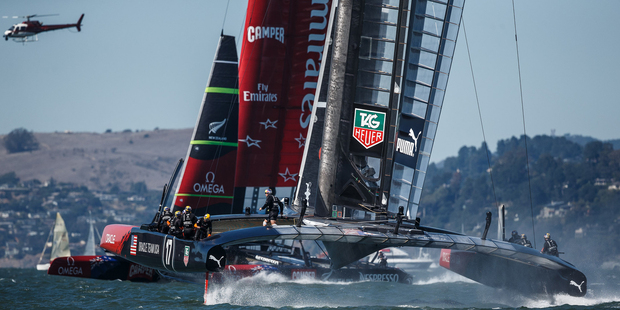 Team NZ and Oracle are set for an America's Cup rematch - in the debating hall.
In the Battle of the Boats lectures, lead engineers from Team NZ and Oracle will shed light on the technological tweaks that made such a big difference in last year's challenge in San Francisco.
Team NZ's Andy Kensington and Oracle's Neil Wilkinson were in the thick of the behind-the-scenes drama when teams worked into the night to give the boats an edge.
The engineers said designers pushed technology to the limits to develop the boats, their strategy and the key design changes made once racing had begun.
"We had a number of tweaks, modifications and changes," Wilkinson said. "When the Cup racing started we finally realised that Emirates Team New Zealand had a slight edge upwind so that's what we started concentrating on, trying to reconfigure the boat to improve its performance upwind."
Oracle later released drawings of the foil system, which used a simple "mechanical feedback" loop to precisely control the daggerboard rake.
Yachting journalist Paul Lewis said many Kiwis wanted more details about the daggerboard.
The Institution of Professional Engineers New Zealand, which is marking its centenary this year, is organising the lectures.
John Weekes