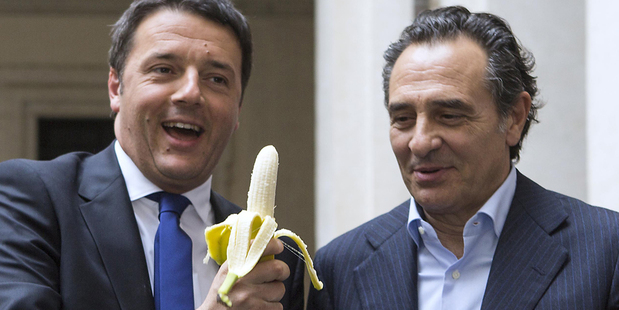 From a very expensive baseball glove to the beer mile being broken, Daily Shorts looks at the light-hearted side of sport.
Following yesterday's incident when Barcelona defender Dani Alves responded to a racist taunt when a banana landed at his feet, by picking it up and eating - fellow football players have shown their support by posting photos eating bananas.
With my colleague Marta from Brazil we say #NoToRacism. We are all equal. pic.twitter.com/0kWLsaAgwP

— Sergio Aguero (@aguerosergiokun) April 28, 2014
with @luis16suarez . We're all the same. #Saynotoracism. pic.twitter.com/rV4TVtT43e

— Philipe Coutinho (@Phil_Coutinho) April 28, 2014
Beer records are made to be broken
James Nielsen is the new holder of the Beer Mile record after becoming the first human to run/chug it in under five minutes. The beer mile consists of four laps of a running track, while drinking a beer before each lap. He smashed 10 seconds off the previous records. No word if he had a few beers to celebrate.
Watch the video
Expensive catch
Parisian fashion house Hermes has produced their own baseball glove which is priced at $US14,100.00 ($NZ16,500). It features gold swift calfskin and took 25 hours to complete. The matching bat is almost $2,000.
Daddy Djokovic
Novak Djokovic is to be a father for the first time after announcing that fiancee Jelena Ristic is pregnant. Now the pressure is on whether he can juggle fatherhood and his tennis career. Roger Federer has won two of his 17 grand slam titles since wife Mirka gave birth to twins in 2009.
Quick hits:
- Lydia Ko received a guitar for her birthday.
- Here's one for Liverpool fans. 2013-14 English Premier League title t-shirts.
- A horse keeps sneaking into football games.
- A beer blimp that was used during an ice hockey tournament broke free and no one can stop it.