Move prompted by outcry over closures in 2011.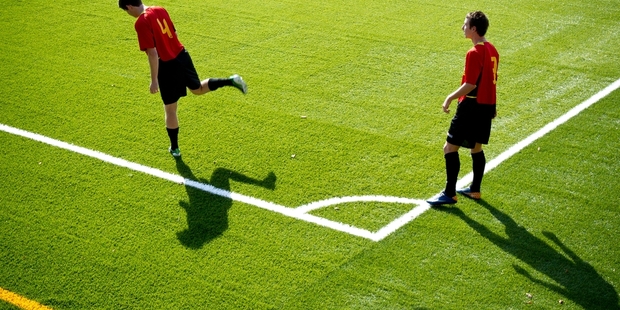 Sports clubs are counting down the days to the opening of new artificial fields on the North Shore, where rain damage to grass fields can cancel training and competition for 1000 teams.
Costing Auckland ratepayers $17.4 million, the all-weather-surface fields nearing completion are in high-growth areas at Ashley Reserve in Long Bay and North Harbour Stadium in Albany.
"Three years ago, we had seven weeks where rain heavily affected training and restricted weekend play, with only the top teams playing," said Kevin Forde, who arranges 560 fixtures a week as competitions manager for the Northern Football Federation.
Mr Forde said the additional turfs and their lights were a boost, especially for the clubs' greatest need - training, which is cut when grass is damaged mid-week.
Marie Gisby, East Coast Bays soccer club's manager, said 11 fields were unavailable to its 1200 players due to renewal and improvement works by the council, "but the long-term gain will be huge".
The North Shore's artificial-turf fields are part of the council's sports fields capacity development programme, which was prompted by the outcry throughout Auckland in the wet winter of 2011.
Artificial-turf fields expand a ground's use from 10 hours a week to 40 hours. But they are expensive.
The council approved $85 million over 10 years to provide 37 artificial fields over the region - on top of what the local boards had flagged in long-term plans.
This was aimed at meeting at least 80 per cent of the projected demand for playing fields by 2022.
However, having $146 million in the kitty to spend from 2012 to 2022 is not a foregone conclusion as the council and local boards look hard for savings.
Council sports park manager Mark Bowater said the capacity development programme had in two years added more than 600 playing hours.
The programme was based on research which showed a shortfall of 3000 playing hours a week for each year by 2022.
The case for continuing the capacity boost beyond its third year was now backed by the Auckland Plan's target for encouraging youth into active recreation.
This aimed to have a reliable surface on 90 per cent of public sports fields and to lift the number of children in organised sport.
Turf wares
2014-15 - planned
• $14.9 million total
• 285 playing hours a week increase.
• Fowlds Park, St Lukes, No 3 field.
• Nixon Park, Kingsland, No 1 field (delay possible).
• Crum Park, Titirangi, No 2 field.
• Greville Reserve, Forrest Hill, No 3 field.
2014-15 - under investigation
• Phyllis St, Mt Albert, 2 fields.
• Massey Domain 1 field.
2013-14 - under way
• $17.4 million
• 410 playing hours a week increase.
• Ashley Reserve, Long Bay, No 1 & No 2 fields.
• North Harbour Stadium, Albany, 1+ warm-up area.
2012-13 - built
• $14.5 million
• 234 playing hours a week increase.
• Michaels Ave, Ellerslie, No 1 field + warm-up.
• Seddon Fields, Western Springs, No 1 & No 2 fields + warm-up.
• Starling Park, Ranui, No 2 field.
• William Green Domain, Howick, No 1 & No 2 fields.
Source: Auckland Council Parks, Sport & Recreation.