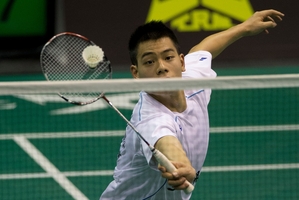 Top seeds dominated today's third round action at the New Zealand Badminton Open on the North Shore, with the favoured players for the most part progressing safely to tonight's quarter-finals.
Men's singles top seed Jen Hao Hsu (Chinese Taipei) took on young New Zealander Dylan Soedjasa, and while he prevailed, the Kiwi once again showed his potential, with Hsu winning in two hard fought games, 21-10 21-14.
The women's singles quarter-finals will feature three of the four top seeds and none have been troubled thus far, all progressing without dropping a game.
The exceptions included men's No 14 seed, Kuei Chun Shih (Chinese Taipei), knock out the second Sourabh Varmaseed of India 21-18 21-15.
In the men's doubles, the pairing featuring former world No 1 singles player Kien Keat Koo and his new partner Pakkawat Vilailak of Malaysia were defeated by Japanese pairing Yuya Komatsuzaki and Hiroki Takeuchi 21-16 21-17.
Among the New Zealanders, Joe Wu joined Soedjasa in departing in the men's singles; Oliver and Susannah Leydon-Davis bowed out in the mixed doubles, then Oliver Leydon-Davis and Kevin Dennerly-Minturn lost in the men's doubles.
The women's doubles is the only event still with a New Zealand presence going into tonight's quarter-finals.
Maria Mata Masinipeni pairs up with Indonesia's Millicent Wiranto while Kritteka Gregory and Susannah Leydon-Davis play Chinese Taipei pair Szu Yu Chen and Chi Ya Cheng in the last eight.