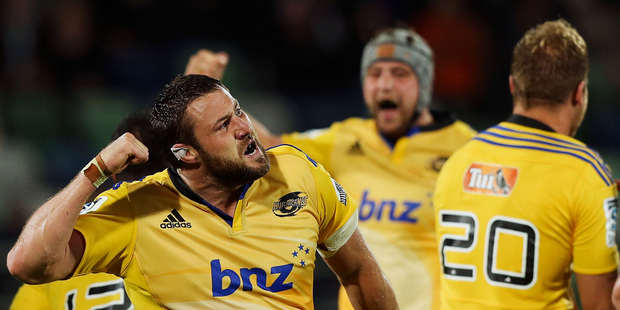 If the Blues were hosting the Canes at Eden Park tonight they would be favourites.
No, that is not another dig at their dreadful 11-game losing streak away from home. It is a fact.
"The home field advantage is often a big part of how we price teams up," says TAB rugby spokesman Mark Stafford.
"And for some teams we factor it in more than others. Usually we give the home team about a five or six point buffer before considering other factors and that is the case for this game.
"So if the Blues were at home, they would be favourites instead of the Canes."
While the Blues away record suggest tonight's odds (Canes $1.60, Blues $2.25) are fair they are not the only visitors expected to struggle this week.
The rampant Force are the only away team favoured to win this weekend and even then the Honey Badger's boys are only narrow favourites over the Rebels, even though they sit nine places above them on the table.
The same theory is reflected in the battle of the giants in Hamilton tomorrow, with the Chiefs at $1.62 the shortest starting price they have been against the Crusaders in years.
"If that game was in Christchurch they would probably he equal favourites at $1.87," says Stafford.
The reason the Crusaders wouldn't be clear favourites, as they were in round one when beaten by the Chiefs, is to fold.
Obviously they have lost more often than they have won against the two-time champs in the last couple of years and the returning from South Africa factor, another part of the bookie's equations.
"We always factor in how hard it is for teams in their first game back from South Africa.
"So all those things put together are why the Chiefs are so dominant in our odds, even though there probably isn't that much between the two teams."
Easter tends to be one of the busier rugby betting weekends of the year, with no horse racing gambling allowed in New Zealand or Australia on Good Friday.
"And a lot of people who would usually be working or heading out on a Friday are spending it at home, often watching the footy," says Stafford.
"So like Boxing Day, it tends to be a very busy one for us."
And if you think the two NZ home teams will continue the winning trend, the TAB have an Easter special, with a Canes-Chiefs double paying $2.80, significantly better than the price you would get backing both teams to win separately.