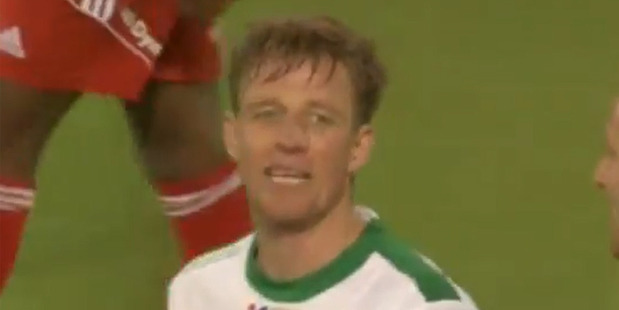 From the strangest yellow card you will ever see to the best training ground brawls, Daily Shorts looks at the light-hearted side of sport.
We've seen some pretty stupid yellow cards earned down the years, from players taking their shirts off to celebrate goals, to some petulantly kicking the ball away.
But midfielder Jan Gunnar Solli, who plays for Swedish club Hammarby, picked up probably the daftest booking ever this week - with a pretty unique skill.
Solli's club were 5-0 up against Degerfors when the incident happened, and it appears that he may well have lost his mind.
As the ball popped up in front of him, the 32-year-old thought he could get away with controlling it by whipping his shirt over the ball and bringing it down.
The mad trick was immediately spotted by the referee (obviously) and the player was handed a yellow card for his troubles.
How did he ever think he'd get away with it?
Son of a biscuit!
From a match at this weekend's Sarasota Open, Donald Young got himself into some tepid water with the umpire after hitting the ball into the net and yelling 'Son of a biscuit man, biscuit man, biscuit.'
It earned him a warning from the chair umpire who obviously has some deep seated issue with baked, flour based foods.
Name of the year
For the past month, Deadspin has been running it's annual Name of the Year competition and today Mr Shamus Beaglehole was awarded the prestigious title.
Yes, they are all real names and below are the top 11finishers. Daily Shorts feels that Dr Loki Skylizard was particularly unlucky not to advance past the quarterfinals.
1. Shamus Beaglehole
2. Dr. Eve Gruntfest
3. Alkapone Cruz-Balles
4. Chubacca Hung
5. Dr. Loki Skylizard
6. Karhonda Porcha
7. Curvaceous Bass
8. Genghis Cohen
9. Chillie Poon
10. Shitavious Cook
11. Fazwaz Wazwaz
*Could he be related to famous NZ historian JC (John Cawte) Beaglehole? Contact us if you have any information.
Welcome to hell, AKA Greek football
We've seen some pretty epic atmospheres from Greek leading side Olympiakos during Champions League matches, but PAOK have gone a step further.
Ahead of their Cup clash with Olympiakos, they promised to provide a 'hellish' atmosphere for their rivals, in a bid to intimidate them.
And I think they pulled it off. PAOK fans created a 'wall of fire' from red flares all around the Stadio Toumbas, making it look like it was alight.
The amazing scenes delayed kick-off of the clash by 10 minutes, before the referee finally deemed that the match was sage to get under way.
And we think the Warriors beating drums are pretty cool....
Cheesy pic of the day:
You call that a bust up?
Last night the Herald reported that there was a slight 'bust-up' between Warriors players Jayson Bukuya and Chad Townsend at training last night.
But the flailing Auckland handbags pale in comparison to an incident at Port Vale this week.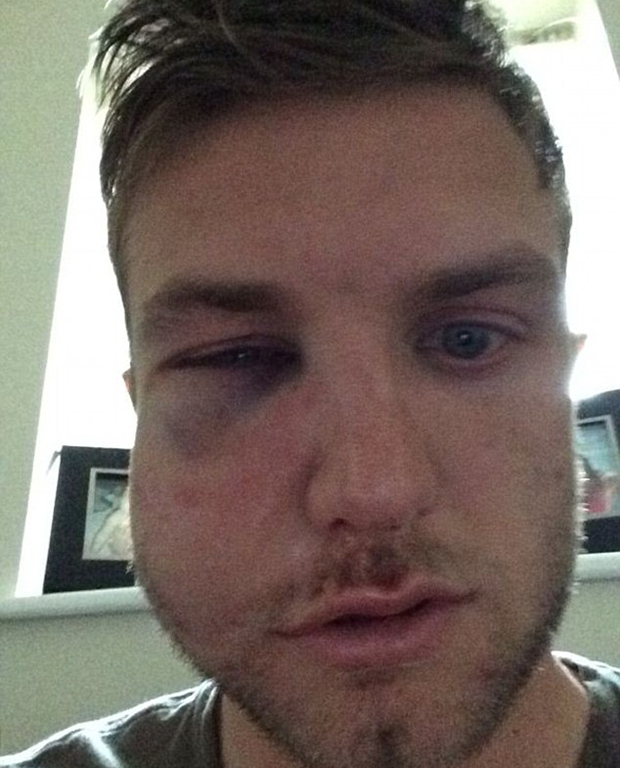 Teammates Doug Loft and Daniel Jones squared up at training which resulted in skipper Loft breaking his cheekbone and Jones being sacked by the club.
No word on what they were fighting over but majority of training ground incidents are usually over who is going to bring in the cones.
THROWBACK THURSDAY
You call that a bust up?
Here's a 'proper' bust-up from a time when men were men. A time where men would display their masculinity by fly kicking each other in the head. A time when Maradona ruled the roost...