Blues halfback has made a speedy recovery after a stroke and heart surgery and is ready to rejoin his team.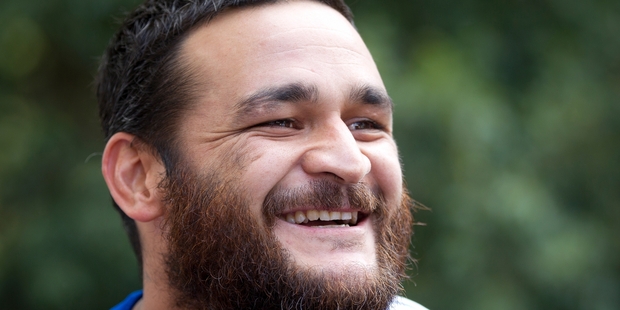 Piri Weepu would be back in blue as early as Friday against his old Hurricanes team if it was left to him.
The 30-year-old Blues halfback has made a full recovery from his minor stroke and minor heart surgery and was back to his old chipper self when talking to the media for the first time yesterday since the health scare.
Weepu went through plenty of emotional soul-searching after a scan several weeks ago revealed he had had a stroke before his two games in South Africa and also had a hole in his heart.
I had my cry, rang the old lady [Kura] and let her know. She gave me a bit of stick.
"When I first found out, I had a few tears, because it's something you don't expect. I had my cry, rang the old lady [Kura] and let her know. She gave me a bit of stick. It only took her two minutes to give me grief. I then got on with it, and tried to do everything possible to make myself better," he says.
"I guess my main concern was whether it would happen again. I had a talk to the doc [Stephen Kara] about it and went down the right path to do everything possible to get myself back on to the field."
He says it was a real scare to him, but he never seriously considered the notion of having to quit the game.
"I was scared when it first happened because I had never had anything like that happen to me before. I'd had two concussions before which were quite bad and some of that stuff ... was totally different symptoms. I was scared it might be something worse than concussion. Finding out three weeks later and knowing the outcome was scary, but it was about getting back in the saddle."
Also read:
Blues welcome the cavalry
Weepu's quick return a surprise
Signs of his stroke, in hindsight, first surfaced the day after the Blues had dusted the Crusaders on February 28.
"That was frustrating. I was trying to talk to a couple of the boys at recovery - Charles [Piutau] and Peter Saili - and had slurred speech. They were looking at me weird and thought I was being an idiot, which doesn't surprise them."
He alerted his 108,000 Twitter followers with news of the impending scan upon the Blues' return from South Africa and originally nothing adverse was revealed, but a second scan brought news of the stroke and subsequent hole in the heart. Weepu was typically flippant about the surgery, done on April 3.
"I had a bit of putty and some sandpaper on it and she was sweet!"
Weepu's absence upsets the balance of the Blues. Normally he would be the goalkicking back-up to Simon Hickey, but without Weepu the Blues would have to turn to Benji Marshall to take the shots should Hickey be injured. Marshall has not taken a kick at goal all season.
"I told JK I was available this week, but he looked at me sideways. It's just making sure I do everything possible to get right. If it means I'm not available this week or next, so be it, just as long as I do what's best for me and the team."
Weepu is more philosophical about rugby now.
"The biggest thing now is to make the most of my opportunities in rugby and life. If that means giving something up that I'm passionate about to live happily, so be it. If I have to stay at home and be with my kids, then so be it."
Blues coach John Kirwan has been as surprised, and heartened, as anyone at the speed of Weepu's recovery. He was even back at the gym last Monday and back in team training, if not full contact just yet, as the Blues take a cautious approach to his return. The Anzac Day Waratahs clash at Eden Park is still the likely date for Weepu's playing return.
His long-time teammate Keven Mealamu is also available for selection this weekend after more ongoing calf problems, but the hooker has a solid sense of perspective when comparing the ailments.
"When I [first] heard about POW, I was thinking it's a calf for me and for him it's on the other spectrum. It puts things in perspective, but it's good to know that he's in good nick and back to his old self," says Mealamu.
Weepu's All Blacks days look behind him now - the pace of their game is too quick for his style - but there seems little reason he cannot now add to his 35 Blues caps.
Weepu's woes
Febuary 28: Plays without apparent incident for the Blues against the Crusaders
March 1: Slurs his speech at a recovery session but flies out to South Africa; plays two matches on tour.
March 23: Tweets of his concern at impending scan.
March 24: Initial scan reveals no issue; subsequent scan reveals he had a stroke and a hole in the heart.
April 3: Has minor heart surgery.
April 7: Back at the gym.
April 13: Trains with team again for the first time.
April 14: Addresses media for the first time.