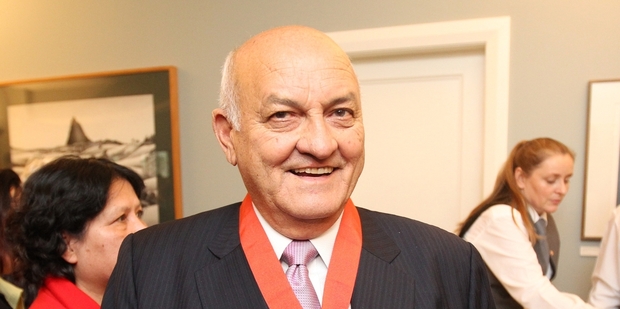 The Warriors' major sponsors have negotiated escape clauses should Sir Owen Glenn became a majority shareholder at the club, it emerged last night.
Vodafone and SkyCity are understood to have negotiated get-out clauses when they renewed their sponsorship deals with the Auckland NRL club.
Co-owner Eric Watson, speaking from Europe, told the Herald on Sunday he was doubtful whether the NRL would even sanction a sale to Glenn. "Some of our major sponsors have insisted that if I'm not the major shareholder, they have an opportunity to review their sponsorship," he said.
Several sponsors are understood to have been upset by comments made by Glenn at a club function last year.
A source said: "There was a situation at a sponsors function and Owen got up and in a joking way he kind of 'dissed' the sponsors for different things. It went down badly."
A third sponsor had also expressed doubts last week about renewing their sponsorship while Glenn was a shareholder, a source said.
Last night Glenn told the Herald on Sunday he was unaware of any such clause. He did not respond to questions about his relationship with club sponsors.
It's understood Glenn's involvement in the club and the past week's controversies have been raised in recent sponsorship contract talks.
Chief executive Wayne Scurrah, who yesterday said he would quit the club should the team fail to make the finals this year, indicated Watson's continuing ownership was crucial to financial stability at the club.
"There would be substantial financial impact if Eric wasn't the majority shareholder. There are some specific clauses relating to Eric's involvement in the club."
A Vodafone spokeswoman said they did not discuss the terms of their sponsorship deal.
"Vodafone leaves the running of the Vodafone Warriors to the club's management, board and owners," said the spokeswoman.
"We're focused on supporting the club on the field and getting our customers closer to the action - whether at the game or at home, through our engagement initiatives."
The NRL put out a statement yesterday supporting the management of the Warriors, saying they were in regular contact with Scurrah and chairman Bill Wavish.
"The Warriors are in the best position to administer its internal operations," NRL chief executive Dave Smith said.
Around 21,000 tickets had been sold for today's clash against the Bulldogs at Eden Park.