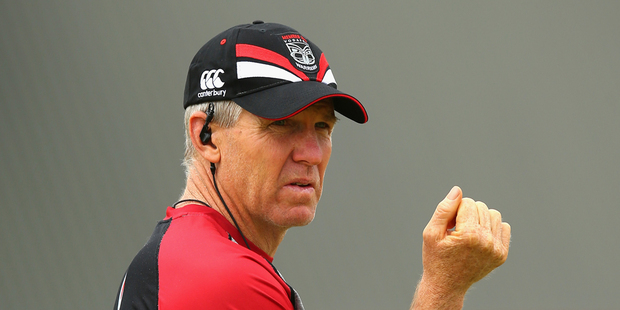 Matt Elliott has tried to defuse the ruckus engulfing the Warriors by saying he agreed to the press release sent out by the Warriors which said he had resigned and held no bitterness towards the club.
Elliott this afternoon released a statement presumably hoping for calm as the club unravels amid a feud between owners Eric Watson and Sir Owen Glenn.
Glenn has steadfastly denied he knew anything about Elliott's departure and called the handling of the situation "diabolical'', saying there was no way Elliott would quit. The relationship between the co-owners broke down to the extent both tried to buy the other out of their 50 per cent share.
Elliott `resigned' on Sunday after the Warriors' dreadful 37-6 defeat to the Sharks. He has kept largely silent on the matter but felt compelled to put out a statement, something he said would be his last word on it.
"I sat with chairman Bill Wavish and agreed on the press release,'' Elliott said in the statement.
"At the end of the day, the club would have preferred this didn't happen and I'm in the same place. In these difficult situations, it's not about wording, it's about being respectful and I very much appreciate Bill for his sensitivity.
"My opinion around the decision has the same impact as every other human on the planet ... zero. The ref has blown his whistle and not even he can change the decision made.
"For what it's worth, I really believe Andrew McFadden is more than ready and has what it takes to lead the club to sustained success. Conversations led by myself had already taken place regarding Cappy taking over next year.
"My desire to finish the process started was very strong, however, circumstances changed and in the grown-up world you take this stuff on the chin.
"I have absolutely no bitterness towards the club. In fact, I am very grateful for what they have done for me and my family.
"The team, in my opinion, will make the [top] eight at least this year and, when the spine settles in, will be a danger to all teams. Their best footie is definitely on the way. Keep the Faith.
"The football programme is in good shape and, with continued focus, development and a dose of poise and patience thrown in, results right across the club will come.''
- APNZ