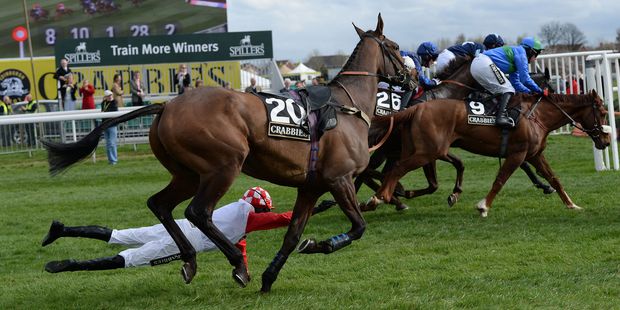 From a possibly decapitated ice hockey player to a popcorn aided baseball catch, Daily Shorts looks at the light-hearted side of sport.
Good way to ruin popcorn
A Pittsburgh Pirate fan ruined a super-sized box of popcorn but ensured he snagged a foul ball during the side's game against the Cardinals last week. The commentators may mock but where is their authentic baseball?
Watch the video here
Best VHS of 2014
The funny folks at Saturday Night Live produced this spoof video of the best moments involving 'white guys' at this year's NCCA basketball tournament. Highlights include 'great bounce passes', 'offensive charges' and 'checking into a game at the end of a blowout'.
At least you're at the game
Speaking of March Madness, here's a view from the worst possible seats at the AT&T Stadium, aka Cowboys Stadium, which is hosting the final four. It's so far away you can barely tell the teams apart.
Ice hockey player possibly decapitated*
It looks like the referee fell for it...

We have the front runner for photo of the year from the NHL. pic.twitter.com/ULeW674RQc

— Diehard Sport (@Diehardsport) April 6, 2014
*We can confirm his head was just inside his shirt.
Flipping heck
Catch this in-car camera from the car of Esteban Gutierrez after he was hit by Pastor Maldonado during the Bahrain Grand Prix. The Daily Mail has some great images as well.
Tweet of the day

I'm assuming Matt Elliot caught a ball without dropping it at training. They have to sack him as coach before the can sign him as a player.

— Jimmy Neesham (@JimmyNeesh) April 7, 2014
Stat of the day:
Arsenal goals conceded in five away matches against the Premier League's top five: 20
Arsenal goals conceded in all 33 matches this season: 40
If you've got any decent stories worth telling we'd love some grassroots content for Daily Shorts, email us here.