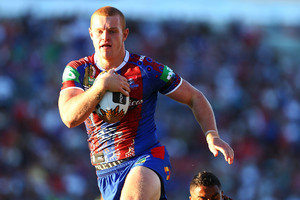 Newcastle Knights forward Alex McKinnon has announced his engagement to girlfriend Teigan Power from his hospital bed, two weeks after breaking his neck in a tackle against the Melbourne Storm.
McKinnon pledged he will walk his bride down the aisle, despite reports that he's facing life as a quadriplegic, and thanked fans for the support he has received since the incident.
He was brought out of an induced coma last Sunday following surgery for damage to his C4 and C5 vertebrae.
According to reports, McKinnon has some movement in his right arm, but has not been able to move his left arm or legs. He remains in Melbourne's The Alfred hospital in a serious but stable condition.
Last night the 22-year-old posted a photograph of himself and his girlfriend on Instagram with a message of thanks to all his supporters.
''This girl is my soldier, I am truly overwhelmed with the support and wishes from everybody in the rugby league society and the community at large,'' McKinnon wrote.
''Your ongoing support will never be forgotten. P.S when life throws you struggles respond with a smile. So happy to announce Teigan and my engagement. #throughthickandthin #iwillwalkherdowntheaisle."
Storm prop Jordan McLean was suspended for seven weeks for his part in the lifting tackle that led to McKinnon's devastating spinal injury.