Although not competing in Auckland, brother Alistair is still inspiration for Jonathan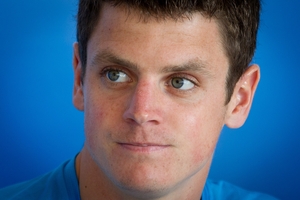 He might still be the second-best triathlete in his family but Jonathan Brownlee begins his season intent on taking over at the top of the sport.
Brownlee will be among the favourites for tomorrow's Barfoot & Thompson world triathlon series opener in downtown Auckland - especially given the absence of brother Alistair.
The elder Brownlee brother was a late withdrawal from the Auckland event due to an injured Achilles, denying local fans the chance to experience one of world sport's greatest sibling rivalries.
And it's a rivalry Jonathan thinks is becoming more evenly matched, though big brother is liable to disagree about that.
"I definitely think I'm getting closer to him but, if you ask him, he'll probably say I'm not," the 23-year-old joked.
"I think I get closer but then he moves away again. He's had a few injuries over the last few years but Alistair's a good athlete and he keeps on improving.
"Hopefully I'm getting closer - he'll start getting old sometime."
Jonathan may not have to wait for the ageing process to progress before he surpasses his 25-year-old brother. After watching from the third step of the podium as Alistair won gold at their home Olympics in 2012, Jonathan finished last year's world triathlon series in second, two places above his brother and trailing only Spain's Javier Gomez.
If Brownlee is to pip Gomez in Auckland tomorrow, and if he can continue that form throughout the season to win his second world championship title, the Brit will know exactly whom to thank.
"Alistair's achievements definitely spur me on," he said. "I remember, even being young when he came back with his Great Britain kit for the first time, he came in with a bag and got his kit out and I was thinking I wanted to be a part of that.
"He's the guy who set the training out from when we've been young. British coaches have said, 'you can't ride your bike for four hours on a Sunday', and Alistair's gone out and done it and I've followed him.
"He's that barrier breaker, he's the one who does things first and, being the less confident person, I follow behind, watch him do it and think I can do it as well. He's been very important and even now I ask him questions about travelling and training."
The pair's battle at this year's Commonwealth Games in Glasgow will be one of the features of the fortnight, especially after their performance at London's Hyde Park in 2012.
The Games' presence on the international calendar was one of the driving forces that saw both Brownlees sign on for this weekend's event in Auckland, with the onus on finding form before July.
"That's one of the reasons why I've chosen to go to the first few races - I want to be able to go home after the London event and train for five or six weeks before the Commonwealths, because they're the main event of the year.
"I haven't been to the Commonwealths before and, while it's not really a home event, being in Scotland, it's kind of home."
In the meantime, Brownlee will be hoping to open the season on a high, having spent the past three weeks training with the British national team in New Plymouth in preparation.
- APNZ